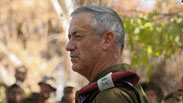 IDF Chief of Staff Benny Gantz
Photo: IDF's Spokesperson's Unit
Former head of the Shin Bet, Yuval Diskin, expressed anger at the IDF Chief of Staff Lt.-Gen. Benny Gantz for telling residents of the south it was now "safe" there.

Similar comments were made against Defense Minister Moshe Ya'alon by the mayor of Sderot, prompting other local leaders to come to Ya'alon's defense.

He made the comments Friday after attempts to extend a ceasefire in Gaza ended without results, leading to over 60 rockets being fired and five Palestinians being killed in response attacks by the IDF.

Related stories:

"Why must we be in such a hurry to make such statements and tell Hamas that as far as we are concerned that operation has ended, even though the ceasefire has yet to stabilize?" Diskin wondered.

"Obviously this invited Hamas to embarrass us this morning," he concluded

Similar claims were sounded by mayors and heads of regional councils of Israel's southern communities. Alon Davidi, mayor of Sderot, slammed Defense Minister Moshe Ya'alon for what he called a massive failure is supplying Israel's southern residents with security.

"While parties continue to talk about a political solution in Cairo, terror organizations from Gaza have opened massive rocket fire on the south," the right wing mayor said.

"This is what happens when the defense minister fails to supply the goods and does not bring security to Israel's residents. It is unconceivable that the minister will speak high and mighty about how Israel will respond if Hamas renews fire, but when it actually happens, we see a weak and meager response," Davidi said.

"I cannot understand why he told the IDF to leave the Strip and release thousands of reservists while there is bearly a ceasefire," he wondered, saying "we have a defenseless minister."

Others were more restrained and backed the minister, Shai Hajaj, head of the Merhavim Regional Council, said "I have no doubt that the members of the Security-Cabinet are examining all of their options and working responsibly to return safety to the area. Criticism should not be sounded while the canons are still roaring."

Tamir Idan, head of the Sdot Negev Regional Council, also expressed concern for the security situation, but came to the defense minister's defense.

"We, the residents of Sdot Negev, back the defense minister. We are sure that he will return security to the region and safety to its residents. "