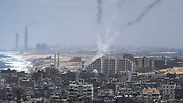 Rockets launched from Gaza
Photo: AFP
After a relatively quiet night, Gaza militants resumed rocket fire into Israeli on Saturday with ten rockets landing in the country's territory since 06:52 am.
At around noon, a rocket landed in an open area in Sdot Negev Regional Council, as sirens sounded in Sha'ar HaNegev. At 11:00 am, three rockets exploded in Eshkol Regional Council, with no reports of injuries or damage.
At 08:57 am, a rocket was launched toward a community in Eshkol Regional Council. The rocket exploded in an open area.
At 6:52 am, sirens sounded in several communities in the Sdot Negev and Sha'ar HaNegev Regional Councils. One rocket exploded in an open area in Sdot Negev.
Ten minutes later, the alert sounded in a community in Eshkol Regional Council, after which four rockets exploded in open area. No injuries or damage were reported in this incident as well.
Meanwhile, the Israeli Air Force continued to carry out strikes in the Gaza Strip overnight Friday, attacking, among other things, warehouses, training sites, houses and mosques. Palestinians reported that two people were killed during an attack on a mosque in Nusseirat refugee camp.
Palestinian sources also reported that an IAF aircraft targeted a motorcycle in the al-Maazi refugee camp in the central Gaza Strip on Saturday, killing two Palestinian men in the attack.
Saturday's violence follows the collapse of a three-day truce aimed at bringing an end to the deadliest round of fighting between Israel and Hamas since the Islamic militant group seized control of Gaza in 2007.
On Friday, dozens of rockets and mortar shells were launched from the Gaza Strip into Israel. In the evening hours, rockets were fired at the Be'er Sheva area, several of which the Iron Dome system intercepted.
Earlier yesterday, rockets were fired at Sderot. One damaged a house in Sderot that was empty at the time of the attack.
Another rocket hit a house under construction in the city. In response, the Israeli Air Force renewed aerial attacks in the Gaza Strip.
Associated Press contributed to this report.