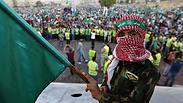 A boy holds a Muslim Brotherhood flag during a rally in support of Palestinians in Gaza, in Amman
Photo: Reuters
More than 15,000 Muslim Brotherhood supporters gathered at a pro-Hamas rally in Jordan's capital on Friday, with many chanting "death to Israel" and urging the militant Palestinian group to step up rocket salvos against Israeli towns and cities.

The evening rally, the largest such protest in Amman in years, saw scores of masked youths dressed in the uniform of Izzedine al-Qassam Brigades, the military wing of Hamas, stage a mock military parade to the cheers of a flag-waving crowd.

The Muslim Brotherhood, the ideological counterpart to Hamas and Jordan's largest political group, is seeking to take advantage of a rise in anti-Israeli sentiment arising from the Jewish state's month-long offensive in the Gaza Strip.

Gaza officials say at least 1,880 Palestinians, many of them civilians, have died in the offensive, which Israel says is aimed at ending Hamas rocket strikes on Israeli territory and rooting out the tunnels the Islamist militant group uses to funnel supplies and launch raids.





Most of the more than 7 million people in Jordan, a staunch US ally, are of Palestinian origin – they or their parents having been expelled or fled to Jordan in the fighting that accompanied the 1948 establishment of Israel.

Politicians and analysts say Hamas's popularity also has soared among non-Palestinian Jordanians as a result of the group's determined fight against the much-superior Israeli army.





On Friday, Muslim Brotherhood speakers prodded Hamas to step up its attacks against Israel to avenge Palestinian deaths.

"In the coming phase, after negotiations failed, the only thing left is the flag of resistance which was behind the victory in Gaza," said Zaki Bani Rusheid, deputy head of the Muslim Brotherhood in Jordan.





In contrast to other Arab states, where the Muslim Brotherhood has been banned and its followers persecuted, Jordan has tolerated the group's presence.

It enjoys a large following in major Jordanian cities that are Islamist strongholds, while Hamas has large grassroots support in Palestinian refugee camps in the country. Jordan is home to the largest number of Palestinian refugees.




Private and public institutions have rushed to raise donations for the Palestinians in Gaza, and Jordan's King Abdullah donated blood on Tuesday. Prayers have been held in mosques to commemorate those killed in Gaza.

Jordan, which along with Egypt has a peace treaty with Israel, this week rejected calls by demonstrators, opposition parties and some mainstream politicians to expel Israel's ambassador and severe ties, saying it would be a counter-productive move.

Prime Minister Abdullah Ensour said Jordan was using its diplomatic leverage with Israel to facilitate the flow of large supplies of humanitarian aid, turning it into the main aid conduit to Gaza via Israel.