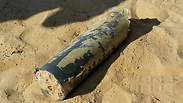 Rocket that landed in Eshkol, Saturday
Photo courtesy of the Eshkol Regional Council spokesman
Rocket fire from the Gaza Strip continued on Sunday, with over nine rockets being shot at Israel throughout the day. Six hit the Eshkol Regional Council in the early hours, while two others slammed into Sderot, starting a small fire. Two more rockets were intercepted about the city.
Mortar hits Kerem Shalom crossing (Video: Border Authority CCTV) (צילום: רשות המעברים במשרד הביטחון)
The IDF hit a number of targets in Gaza overnight, killing at least three and extending renewed fighting in Gaza by an additional day as efforts in Egypt to secure an extended ceasefire seemed slim.
Code Red pierced the silence at 6:13 am, warning of incoming rockets from Gaza in Eshkol. Two rockets exploded in open areas and there were no reports of damage or injuries. Three hours later, four additional rockets hit open areas in the regional council.
Prime Minister Benjamin Netanyahu convened the Cabinet Sunday, and said "Operation Protective Edge continues... Israel will not conduct negotiations under fire." Since Hamas decided to renew rocket fire instead of unconditionally extending the ceasefire, Israel's position has been that it refuses to talk while violence continues, the position has led Palestinian negotiators to threaten to quit talks.
During the night, sirens were also activated in two communities in the Hof Ashkelon Regional Council, but proved to be false alarms.
The Israeli Air Force has responded to the rockets fired on Israel, striking 20 targets throughout the Gaza Strip since midnight Saturday. One hundred and fifty targets have been hit since the end of the three-day ceasefire, which expired on Friday morning.
Air strikes and shelling killed three Palestinians in Gaza on Sunday, including a boy of 14 and a woman, medics said, in a third day of renewed fighting that has jeopardised international efforts to end a more-than-month-old conflict.
According to Ashraf al-Qodra, spokesman for the emergency services in Gaza, 15 Palestinians have been killed since the resumption of fighting on Friday morning.
On Saturday, over 30 rockets and mortar shells were launched into Gaza border communities. One of the rockets exploded in an open area in a community in Eshkol Regional Council. No injuries or damage were reported in this incident as well.
Meanwhile, a number of residents living near the Gaza border are still staying far away from home. According to an assessment by the regional councils, some 85-95% of the residents who left during the operation have now returned to their homes.
However, some of the families are considering leaving again and the Eshkol Regional Council has announced that it would assist the families who wish to do so.
Yanina Barnea, a resident of Nahal Oz, said: "There's a lot of uncertainty along with frustration. We're a border-adjacent community, in which we are unable to live a routine life. We refuse to go back to the reality that we lived in for 14 years. The education systems have stopped working.
"Hundreds of soldiers stayed there," Barnea explained, adding that "council officials hired cleaning companies and the manager of the company forbade the workers from going because it's dangerous there. And so, the nursery schools are unclean and not protected as well. We're waiting for a new protected nursery school to be constructed, where we can put the children in temporarily. There's a budget gap because no one is willing to pay.
She added that "there's a back-to-normal state, but with a sprinkle of rockets." Barnea further explained that "the children have been outside of the home for a month. This is not an easy task."
Attila Somfalvi and AFP contributed to this report