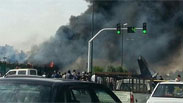 40 reportedly killed in Iran plane crash
State television in Iran is reporting that a small passenger plane has crashed into a residential area in the capital, Tehran Sunday.

The plane crashed in a residential area after taking off from Tehran's Mehrabad airport on Sunday morning, Iran's official IRNA news agency reported, citing a spokesman for the Iranian Red Crescent Society and its own reporter.

Initial reports were that 40 passengers, including seven children, were killed in the crash, IRNA reported. No information was available on whether anyone on the ground was injured.

The plane was bound for Tabas in northeastern Iran and crashed into the Azad residential block on Mina 6 Boulevard, it reported.

IRNA reported that an engine shutdown caused the crash. Iran's aviation sector has suffered repeated crashes which have been blamed by Iranian politicians on international sanctions.

Those sanctions have restricted Iranian carriers from buying new aircraft. For years, planes have been kept in service through parts imported on the black market, cannibalised from other planes or reproduced locally, aviation sources say.
Sanctions and crashes
Iran's four largest carriers - Iran Air, Iran Aseman Airlines, Mahan Air and Iran Air Tours - all have average fleet ages above 22 years, Iranian media have reported. They serve a market of 76 million people.
Iran has suffered a series of airplane crashes, blamed on its aging aircraft and poor maintenance. Many of the Boeing aircraft in IranAir's fleet were bought before the country's 1979 Islamic Revolution, which disrupted ties with the US and Europe.
The last major airliner crash in Iran happened in January 2011, when an Iran Air Boeing 727 broke to pieces on impact while trying an emergency landing in a snowstorm in northwestern Iran, killing at least 77 people.
In July 2009, a Russian-made jetliner crashed in northwest Iran shortly after taking off from the capital, killing all 168 on board.
In February 2003 a Russian-made Ilyushin 76 carrying members of the Revolutionary Guard crashed in the mountains of southeastern Iran, killing 302 people aboard.
US companies Boeing Co and General Electric Co have said they are seeking to export parts to Iran under the agreement for sanctions relief.
The chief of Iran Air said the airline will need at least 100 passenger jets once sanctions against the country are lifted.
Mehrabad is located in a western suburb of Tehran and mainly functions as a domestic airport, although it also serves some international routes.
Reuters and the Associated Press contrbiuted to this report