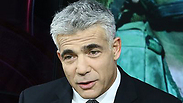 Finance Minister Yair Lapid
Photo: Ofer Amram
The government has authorized NIS 23 million in funds for infrastructure development in Israel's Gaza-area communities, after weeks of violence have seen the area hit by countless rockets fired from Gaza.

It has also issued a onetime NIS 30 million endowment for soldiers who served in Operation Protective Edge.

Some 9.6 million of the development money will go to rural communities and regional councils in the south, while the town of Sderot will receive 13.5 million of its own for similar purposes.

The government is also mulling the formation of a student housing village inside the rocket battered town for the use of students studying the adjacent Sapir Academic College – whose director general was lightly wounded Friday by mortar fire.

The proposals were all proposed and sponsored by Prime Minister Benjamin Netanyahu, Finance Minister Yair Lapid, Housing Minister Uri Ariel and Development of the Negev and the Galilee Minister Silvan Shalom, and are thus expected to pass without issue.

The government also authorized a NIS 30 million endowment for reserve soldiers who served in Operation Protective Edge, and the fund will work to reimburse Israelis who suffered economic loss because of their participation in Gaza fighting.

The development funds will be used to renovate parks and playgrounds in Sderot, as well as allowing the establishment of culture halls and public facilities the Eshkol, Hof Ashkelon, Sdot Negev and Sha'ar Hanegev. The budget will be allocated over the 2014-2015 budget.

The student village will operate as part of the Ayalim Association's Student Villages and is estimated at NIS 50 million (30 million from the State and 20 from Ayalim). The village will give home to 150 students, all of which will take an active role in the city through volunteer and educational initiatives.

Last month the State authorized a large development program for the Gaza-area region valued at over NIS 400 million.