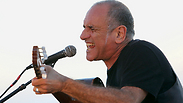 David Broza live from Masada
Photo: Meir Ben-Ari
Musician David Broza had to cancel his annual Masada concert because of Operation Protective Edge and the security risk posed to large crowds from rocket fire, but he did not let that stop him on Sunday morning when he decided to perform the show - even if it meant he did not have an audience to perform it to.

Broza's show on Masada, that has turned into a Tu B'Av (Jewish holiday of love) tradition, was instead broadcast live on Ynet so that anyone, anywhere, could watch it. And if you're not the type of person to wake up at five in the morning, fear not! We have the entire show up for you to stream and enjoy!

David Broza's sunrise concert in Masada (צילום: סטלינק)

He opened the show with his hit song "Sigaliot" ("Violets") and ended with the traditional show-wrapper "Veyihyeh Tov" ("Things Will Get Better"), expressing the hope for better, quieter days.

"The security situation doesn't allow large gatherings and a lot of people are anxious about the situation," Broza told Ynet. "I'm not giving up after 21 years - so I decided to broadcast this wonderful sunrise directly to the audience, wherever they are - in Israel and worldwide - in the hopes it'll be touching, and gives some of Tu B'Av to the lovers."

Broza performed many songs from his long-career, among them "Shir Ahava Bedoui" ("Bedouin Love Song"),

"Haisha Sheiti" ("The Woman By My Side"), "Daniela," "Mitachat LaShamayim" ("Under the Sky"), "It's All or Nothing," among many others.

He was joined by American singer-songwriter Steve Earle, and accompanied by Alon Nadel on bass and Gadi Seri on percussion.

Sound Engineer - Carmel Lifshitz

Amplification - Itzik Doron

Lighting - Avinoam Michaeli

Special thank you to the Israel Nature and Parks Authority and to Asher Bitansky.

The show is sponsored by East Jerusalem West Jerusalem-Broza Records.