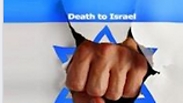 Hate pages - not removed from Facebook
Facebook, the world's largest social network and one of the most popular websites on the internet, does not allow hateful and inciting content on its pages. Despite that, and despite having received many reports from users, Facebook does not remove some hate pages, among them anti-Israel pages that have popped up in large quantities over the past month amid Israel's operation in Gaza.

Facebook's Community Standards, much like the terms of use on many other websites, stipulate that "Facebook does not permit hate speech ... we do not permit individuals or groups to attack others based on their race, ethnicity, national origin, religion, sex, gender, sexual orientation, disability or medical condition."

In order to enforce this policy, Facebook gives users the option to report offensive content. Facebook is then supposed to look into the reported content with both automatic and manual means, and remove it if it does indeed violate these terms of use.

But when one browses the social network, such hate pages are still going strong.

A page called I Hate Israel, for example, that has thousands of likes, was taken down for a short time following user reports, but has since been put back online. Its admin must be cautious not to post inciting messages, and instead focus on posting support messages to the residents of Gaza and calls to boycott Israel. Many other anti-Israel pages were launched after that.

Some pages are far more extreme, calling for "Death to Israel" or "Death to Zionists," but Facebook hasn't removed them either. A quick search shows you could still easily find these pages, which compare Israel's policies to Nazism and call for its annihilation.

Facebook's terms of use mandate that calls like that are supposed to be deleted, but when German magazine Bild reported them, it received a message from Facebook saying these pages are not violating the terms of use and will therefore not be removed. We received similar responses to our reports on some of these pages.
How to report an offensive page?
Every page, profile, status, photo or any other type of content on Facebook has the option to report it.

To report offensive content, click the page's menu (three dots) or the post's menu (a small down-facing arrow) and click Report. Then, follow the stages illustrated below to report the content to Facebook's team, who manually examine pages and decide what content abuses freedom of speech and has turned into bona fide hate speech.






You could also complain directly to Facebook. Since the social network handles a vast variety of queries from over one billion users, it's hard to contact it directly, but there are several ways to do so. For example, through the help pages, or through comments and messages posted on Facebook's own page.
Facebook: It's a hard balance to strike
Facebook's spokesman said in response: "Facebook is a social network in which people can share their views on the issues that matter to them, while maintaining other people's rights. We encourage people to report any violation of our terms of use so we could take the appropriate action promptly.

"There are many cases in which people post harmful content to Facebook that might be offensive to others. However, it does not necessarily violate Facebook's terms of use. With over a billion users, Facebook has put in place a universal set of rules of conduct on social media, known as Facebook's Community Standards. With a community of users coming from a vast variety of countries, cultures and races, we often come across posts that are harmful and offensive. In order to enforce the objective standards that are important to Facebook, we will remove reported content that violates our terms of use, for example, when it turns into a direct and real threat.

"Questionable content can be reported to Facebook using the link available with any page or post. A highly-skilled team of experts checks each report and removes content that breaks the rules. These experts work around the world in a variety of languages, including Hebrew, in a way that provides around-the-clock response to each report."