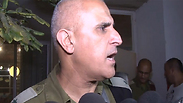 GOC Southern Command chief Sami Turgeman.
Photo: Roee Idan
GOC Southern Command chief Major General Sami Turgeman spoke Sunday to the residents of Nahal Oz, an Israeli town just two kilometers from the Gaza border where residents were told that they could return home in safety after a previous 72-hour ceasefire took effect. The truce later ended resulting in more fire from Gaza and criticism from southern residents.

Turgeman admitted that the IDF had made mistakes in some of its public announcements during Operation Protective Edge saying that, "Everything that happened here regarding our announcements, our stance or status... I know that we made mistakes in some of our announcements."

"I heard that from Alon Schuster (Mayor of Sha'ar HaNegev Regional Council) as well," said Turgeman. "We are changing the elements and we will definitely give the best feeling that we can give regarding our defense."

Turgeman also stressed the success of the operation overall saying, "I think that we gave a response that will provide a base for years to come."

"I can say for sure that the reality of security after the operation is better than before the operation. It's true that at the moment we are are still in the middle of arm-twisting negotiations and that may continue, I'm not saying that it won't, but when I look at the security situation, I see Hamas in a completely different position," said Turgeman.

Related stories:

From here, said Turgeman, "There are two options. A (political) settlement or expanded (military) action. I think that in the coming days everyone will understand much better where things are headed, either to the expansion of our operations within the Gaza Strip or to a settlement and peace."

Turgeman also said that Operation Protective Edge still had not reached its conclusion. According to the general, the IDF has still been striking at Hamas over the last few days. He added that the military had known about the threat posed by Hamas' smuggling tunnels before the operation and had located four of them.

"The air attacks that we carried out didn't provide a solution and didn't succeed in destroying the tunnels," said Turgeman. "Over the last few months, when the opportunity arose to hit the tunnels, we launched an operation and destroyed all the tunnels that we knew about."

"Hamas built tunnels over the course of five years and we destroyed them in two weeks. We eliminated important infrastructure belonging to Hamas. Every time we find a tunnel, we'll go in and destroy it," said Turgeman.

The residents in Nahal Oz however, expressed concern over more than just the smuggling tunnels. "The reality is that we are Gaza's neighbors and all we can do is expect and hope that the security forces will defend us," said a female resident.

"The time that will pass until the ideal protection is built up isn't enough for us. It will take another two-three months and that's unacceptable. I don't think anybody here has been hurt more than us. We want pastures without road blocks, without damage to the fields and without the presence of soldiers. We're happy that someone is protecting us, but if we are targets, we're afraid," she said.