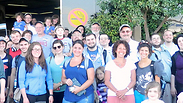 North American immigrants at Ben-Gurion Airport (archives)
Photo courtesy of Nefesh B'Nefesh
Randy Levine, president of the New York Yankees baseball club, and his wife Mindy hosted at Yankee Stadium on Sunday some 40 young men and women who are planning to make aliyah and to serve in the Israel Defense Forces.

Some of the future IDF soldiers will be moving to Israel on the charter aliyah flight which is expected to land at Ben-Gurion Airport on Tuesday with 338 new immigrants from the United States and Canada.

Welcome Home

Dozens of the 430 French immigrants arrive in Jewish state during Operation Protective Edge, move to southern cities of Ashdod and Ashkelon despite ongoing rocket fire from Gaza.

Among them will be 108 inspiring young men and women who will be serving in the Israel Defense Forces.

The special flight is being organized by Nefesh B'Nefesh, the Ministry of Aliyah and Immigrant Absorption and Keren Kayemeth Le'Israel, in cooperation with The Jewish Agency for Israel, JNF-USA and Tzofim Garin Tzabar.

The IDF currently has 2,800 lone soldiers serving in a range of positions in the army, after making aliyah without their parents. The purpose of the Nefesh B'Nefesh Lone Soldiers Program is to provide a holistic service package for young men and women who make aliyah and are required to serve in the IDF.

"I want to thank Randy and Mindy Levine for their exceptional hospitality and the unforgettable experience they gave to the young olim, just before they departure for Israel," said Rabbi Yehoshua Fass, co-founder and executive director of Nefesh B'Nefesh.

The large group of olim include 37 families with 107 children. The passenger list also includes 65 Olim moving to Israel's periphery as part of the Nefesh B'Nefesh and Keren Kayemeth L'Israel Go North and Go South programs. Altogether, the Olim will be settling in every part of Israel, from Ma'alot in the North to Eilat in the South.

The olim hail from 27 states and three Canadian provinces, from Arizona to Quebec, and range in age from a six-week-old baby to a 93-year-old great-grandparent in a family of four generations making Aliyah together.

"I find it profoundly inspiring that we have a 747 jumbo jet filled to capacity with people from the North American Jewish community making aliyah, especially at such a challenging time," said Rabbi Fass.

"To see that Jews everywhere, young and old, religious and secular, are determined to fulfill the dream of helping to build the Jewish state is truly amazing," he said.