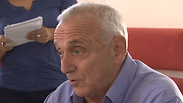 Internal Security Minister Yitzhak Aharonovich.
Photo: Roee Idan
Internal Security Minister Yitzhak Aharonovich spoke in a Ynet exclusive Monday morning saying that Israel should expect a re-escalation with Hamas in Gaza after the current three-day ceasefire agreement is concluded Wednesday night.

"There is little chance of reaching an agreement," said Aharonovich regarding talks in Cairo to reach a long-term agreement that aims bring humanitarian relief to Gaza and quiet to southern Israel. An Israeli envoy to the on-going talks left for Egypt early Monday morning in an attempt to take advantage of the current truce.

"By my understanding, at the end of the 72 hours we'll return to fighting and we'll need to progress to the next stage which is the decision making stage," said Aharonovich.

"I'm pessimistic regarding the outcome of negotiations," said Aharonovich citing that, "The distance between Hamas' demands and our desire is tremendous. We need a magician to give us a long term solution to stop the rocket fire on Israel."

The minister made Israel's case for greater action if rockets from Gaza don't stop saying, "Hamas aims to destroy the State of Israel. There's no real siege on Gaza. Hundreds of trucks and thousands of trucks pass through Kerem Shalom; there's no limit."

Related stories:

"There isn't full closure," he continued. "People pass through the Erez border crossing. They want an airport, a sea port... I think that it's a mistake to work towards opening a port in Gaza."

"We can't settle for a rocket here or there," stressed Aharonovich. "We'll have to decide."

According the Aharonovich, the Cabinet has been divided throughout Operation Protective Edge, mostly regarding the goals of the mission. "There have been opinions here and there in the Cabinet. There were some who wanted to overthrow Hamas and there were opinions that said we should act in stages."

While he advocated greater military action against Hamas in the case of continued rocket fire, Aharonovich expressed some concern over the state of the West Bank and the possibility of severe retaliation even from the more moderate Palestinian population lead by the Palestinian Authority under President Mahmoud Abbas.

"There is an increase in the amount of Palestinians harmed in the West Bank," said the MK. "Because of what's happening in Gaza there's an atmosphere that leads to an increase of security events and that's why we're investing a lot of forces there."

"At this point we can still handle it, but in the case of another entrance into Gaza, we could potentially see more severe events and we need to prepare for this," said Aharonovich.

The MK said however, that he had complete confidence in Israeli forces stationed in the West Bank. "There were several events that gave the public the feeling that they couldn't trust the police. To my understanding all the events with the police have been taken out of proportion."

"We have excellent police, great officers, and I back the chief of police to the end," said Aharonovich.