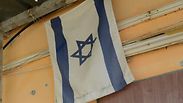 Damage caused to the road, where the rocket hit
Photo: George Ginsburg
When Silviya Orshchovsky arrived at her convenience store in kibbutz Ein HaShlosha on the Gaza border on Monday morning, she was shocked to discover the great damage caused to the structure from a mortar rocket that landed nearby.

But what was even more shocking was that while the entire front wall of the structure was peppered with shrapnel holes, the Israeli flag hung over the front door remained completely undamaged.

צילום: ג'ורג' גינסברג

"The flag stayed hanging," one of the residents of the kibbutz said.

"The bomb fell on the road in front of the store. It hit the walls; it's all holes in the door and everywhere else, just not on the flag. It remained untouched," Orshchovsky said.

The store, located in a kibbutz in the Eshkol Regional Council that is right on the Gaza border, remained closed on Monday morning. "We have no communications or water, so we didn't open," Orshchovsky said.

Orshchovsky spoke of the complicated situation in which the kibbutz residents found themselves - living in-between ceasefires.

"The situation here is unpleasant. It's very scary that we don't know where we stand. It's sad to see the kibbutz empty like this, without children," she said.

"I left only for a week, and came back because I wanted to be with my husband Sergio. It was harder for me to be far away up north than to be in the kibbutz," she added.

Orshchovsky went on to say the residents of Ein HaShlosha weren't feeling safe.

"We have no security here, we're not safe. We don't know what could happen today or the day after tomorrow. The ceasefire is neither here nor there. Our children don't go outside because they can't. They returned to the kibbutz but remain inside the house. What kind of a routine is that for them? We want to live like in Tel Aviv, like in the north. I hope they don't start shooting again."