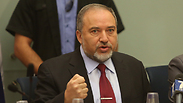 Lieberman
Photo: Gil Yohanan
Hamas must not come out of this confrontation "feeling like terrorism pays off," Foreign Minister Avigdor Lieberman told Ynet on Monday, as indirect ceasefire talks are underway in Egypt.

"We must not blink and we must not allow for even the faintest impression that it pays off to fight against Israel," Lieberman said.

"The current confrontation started when Hamas in Gaza gave the order to kidnap the three teens and murder them, following which it started launching rockets at civilian population in Israel," Lieberman said in his first interview since the end of the ground incursion in Gaza.

Related stories:

"Hamas also took advantage of the ceasefire on Friday two weeks ago in order to kill two of our soldiers and kidnap the body of a third, Sec.-Lt. Hadar Goldin," he added. "They then refused to extend the 72-hour ceasefire (that ended last Friday) and resumed fire at Israeli cities."

The foreign minister stressed that "if by the end of all of these events, Hamas gets what it wants, or even if there's only a feeling that they got what they wanted, among the organization's leaders and among the Palestinian public, what the other terror organizations surrounding us understand is that terror pays off and the price we'll pay for it is heavy. We mustn't allow that."

Liberman noted several conditions that must be met before the Gaza operation could end, among them the retrieval of the bodies of Sec.-Lt. Hadar Goldin and Staff Sgt. Oron Shaul.

"It can't be that all of Hamas' men, including the 20,000 terrorists in its armed wing, get their paychecks regularly, via the Palestinian Authority or any other way, while the bodies of IDF soldiers haven't been brought for a proper burial in Israel," he said.

The senior cabinet minister also said the release of terrorists was out of the question.

"We won't allow the release of terrorists - not of the Shalit deal ones who violated their parole and were arrested again during Operation Brother's Keeper, nor those who have been arrested before that," Lieberman said.

"We also won't agree to (go ahead with) the fourth phase of prisoner release that Abbas has demanded. Steps like that, at this time, would boost and reward terrorism."

Israel was not acting against the Gaza population, the foreign minister said.

"We'll be willing to ease up on them and allow them normal living conditions, but as long as Hamas controls Gaza, it is preventing that. We don't want to hurt those who are not involved (in the fighting) and we have no objection to the opening of the Rafah border crossing, but as long as Hamas controls the Strip there's no way we'll even agree to discuss opening a seaport and airport in Gaza," he said. "As far as I'm concerned, it's not even on the table."

Lieberman stressed that Gaza's rehabilitation "could only happen alongside the formation of an effective mechanism to control and supervise the money and construction materials going in there, so they would be used to actually improve the Gaza civilians' lives, rather than used for terror against Israel again."

In conclusion, Lieberman stressed that "the moves Israel will agree or not agree to take now, after a month of fight, has great importance to the Israeli deterrence. We must not blink."