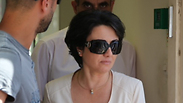 Balad MK Hanin Zoabi
Photo: Moti Kimchi
Israeli Arab MK Hanin Zoabi on Monday slammed a police investigation into her alleged incitement, calling it "a witch-hunt" against her.

Zoabi was speaking after five hours of questioning by police from the elite Lahav 433 unit, over claims of incitement and insulting a public official at Nazareth Magistrate's Court.

The MK was subsequently released; the results of her interrogation will be reviewed and submitted to the head of Israel Police Investigations and Intelligence Department, in order to formulate the official police on the case.

Related stories:

"This is a redundant investigation, which is part of a witch-hunt against me," said Zoabi in reference to her long hours of interrogation.

Zoabi also lashed out at the conduct of the police and judicial system towards her, accusing them of discrimination.

"They were positive that they finally caught me, and for such a minor incident. I invite them to compare the statement I made in court and the statements by many MKs and ministers, as well as direct and wild incitement by Foreign Minister Avigdor Lieberman against me."

"I filed dozens of complaints to the police over the incitement against me, but for some reason they did not see fit to open an investigation," she added.

Zoabi also accused the judicial system of being subjective and partisan.

"In this country the racists are the ones who judge democracy, but those who wish to defend it and protect the right for equality and protest, find themselves under investigation," she said.

Attorney General Yehuda Weinstein decided about a week ago to launch a criminal investigation into Zoabi's actions, following complaints by two policemen.

The officer said that Zoabi had cursed him and made derogatory comments about him and a colleague during a remand hearing for Arabs rioters protesting against Operation Protective Edge.

Among other comments, the policeman claimed, Zoabi said they should be used "to mop the floor".

Eli Senyor contributed to this report.