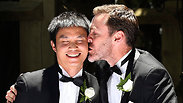 Same-sex marriage in Australia
Photo: AP
The Law of Return, which grants Israeli citizenship to any Jew who seeks it, will from now on also apply to spouses of gay and lesbian Jews who immigrate to Israel with their partner, Interior Minister Gideon Saar instructed the Population and Immigration Administration on Tuesday.

The decision is based on the Law of Return, and applies to those who are not already citizens of Israel. It is actually a liberal interpretation of a 1970 amendment to the law.

Sa'ar's decision means that for the first time, under the Law of Return, a Jew in a same-sex marriage who has legally married abroad can immigrate to Israel and become a citizen, along with their spouse, even if that spouse is not Jewish.

The Law of Return states that every Jew is entitled to immigrate to Israel, and this right is also given to that person's family and their spouse:

4A. (a) The rights of a Jew under this Law and the rights of an oleh under the Nationality Law, 5712-1952***, as well as the rights of an oleh under any other enactment, are also vested in a child and a grandchild of a Jew, the spouse of a Jew, the spouse of a child of a Jew and the spouse of a grandchild of a Jew, except for a person who has been a Jew and has voluntarily changed his religion.

"Israel's doors will be open to every Jew and his family, without any discrimination against his lifestyle," said Saar.

He explained that the decision in principle was taken after complaints from the Jewish Agency, and was an issue that had also been raised in a number of recent applications to the Interior Ministry.

In a statement on the issue sent Monday to the head of the Population Administration, Saar wrote that "the point of the Law of Return is an ingathering of the Jewish people from exile, and the purpose of the 1970 amendment was to enable the family of a Jewish person to come to Israel as an equal to him, in order to encourage immigration.

"I do not see any reason to distinguish between Jews who had a heterosexual marriage and Jews who had a same-sex marriage abroad, according to the law. Both meet the requirements of the Law of Return, from the perspective of 'and the sons have returned.'"