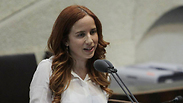 MK Stav Shaffir
Photo: Gil Yohanan
After a stormy meeting, the Knesset's Finance Committee on Tuesday approved an additional NIS 3.9 billion to the defense budget. A joint finance-defense committee will discuss behind closed doors how the funds will be disbursed.
The funds will be taken from the budgets for public transportation, development of water plants and the earthquake preparedness committee.
Opposition MKs protested the secrecy over the destination of the requested budget addition.
"We can't approve a budget with targets that are unknown to us," MK Yaakov Litzman (United Torah Judaism) said.
MK Zehava Gal-On (Meretz) joined the opposition's protest as a member of the defense budget committee (which unites members of the finance and foreign affairs and defense committees), claiming the secrecy made the committee a "rubber stamp" for the defense establishment.
The additional funds to the defense establishments will come in four parts: an immediate, direct transfer of NIS 1 billion; a NIS 2.2 billion transfer in the form of authorization to use funds from multi-year budgets; NIS 680 million in funds depending on income (without elaborating the source of income); and a transfer of 20 staff to the defense ministry (again, without detailing who will be hired and who will pay for it).
Labor MK Stav Shaffir was asked to leave the room during the meeting after repeatedly interrupting the discussion by shouting.
The freshman MK was protesting the fact the Finance Ministry hasn't provided the committee with detailed explanations on the cuts that would accommodate the budgetary boost for defense, in particular on the nature of the cuts to the public transportation budget.
Shaffir also wanted to know whether the budgetary addition was masking hidden budgets for the Bayit Yehudi party.
Shaffir was removed after she accused committee chairman Nissan Slomiansky of Bayit Yehudi of "lying to the Israeli public" by supporting the "hiding of facts from the public."