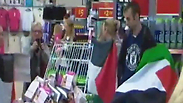 Removing products from the shelves
Photo: YouTube Screenshot
A group of flag- and banner-waving Palestinian supporters have entered a supermarket in Belfast, Northern Ireland, and removed from the shelves items they claim have an association to Israel.

According to the Belfast Telegraph, dozens of protesters entered the Asda supermarket on Monday evening, with many chanting pro-Palestinian slogans. They then began to remove the products from the shelves.

Videos uploaded to YouTube by the protesters show demonstrators draped in Palestinian flags and shouting "Boycott Israeli goods" and "From the river to the sea, Palestine will be free" – a Hamas slogan that advocates the elimination of Israel. The footage also shows protesters, some accompanied by young children, loading a variety of products into shopping trolleys.

Monday's incident marked the second time that a group has entered a supermarket and removed items they claim are connected to Israel from the shelves, the Belfast Telegraph said.

Last week, the report said, dozens of people went into a Sainsbury's store in Belfast and took products, including by Coca Cola, from the shelves. Again, the report said, many of the protesters were carrying banners and Palestinian flags, and shouting "free Palestine."




The blurb on one of the videos reads: "On Monday, August 11 scores of people participated in an éirígí-organised 'de-stocking' of Israeli products, and the products of companies closely associated with Israel, from the shelves of the ASDA supermarket in West Belfast.

"Purchasing Israeli products provides support to the Israeli economy, which in turn lends support to the Israeli state and its murderous campaign against the Palestinian people. Boycotting of Israeli goods sends a very strong economic and political message to Israeli - 'apartheid and genocide are not acceptable in our world.'

"Just like the apartheid regime of South Africa, Israel is on the wrong side of history. For as long as that regime exists right-thinking people across the world will organise opposition to it."

The conflict in Gaza has elicited fierce pro-Palestinian responses across Europe, some of which have directly targeted the Jewish communities in a number of countries.

In July, eight people were hurt when pro-Gaza protesters tried to storm two synagogues in Paris. Earlier this month, an American Jewish woman in Belgium called a doctor about a fractured rib, and was told to "visit Gaza" to help get rid of the pain.

When the woman's son called back to the medical hotline the doctor was manning, the physician told him to "Send her to Gaza for a few hours, then she'll get rid of the pain."

In Britain, members of the Jewish community have expressed concern over growing anti-Semitism in the country, with reports of swastikas being scrawled on gravestones, businesses and homes, as well as abusive incidents in predominantly Jewish neighborhoods.