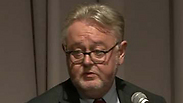 Prof. William Schabas, who will head the UN Human Rights Council's inquiry commission into the Gaza fighting, spoke with Ynet and said he is not against Israel, but rather a supporter.

INTERVIEW: Prof. William Schabas (צילום: ולדימיר רוטנשטיין וחגי דקל)

Speaking to Ynet's sister print publication Yedioth Aharonoth, Prof. William Schabas said "It would be inappropriate for me to answer a question like that," he replies politely when he asked whether Israel has committed war crimes. He gives the same diplomatic answer when asked if Hamas is a terror organization, and again when he was asked for his opinion on the Israeli leadership.

One could say a lot about Schabas, the Canadian professor of international human rights law who has been appointed to head the UN Human Rights Council's inquiry commission to investigate the fighting during Operation Protective Edge in Gaza. But one thing is for sure: The man who hasn't spared any criticism of Israel knows very well how to remain silent.

A day after being appointed chair of the commission, Schabas found himself in the eye of the storm. His critics were quick to point to harsh comments he has made in the past against Israel, which raise the question of whether he can actually serve as an impartial investigator.

Among his comments, he admits he wanted to see Prime Minister Benjamin Netanyahu stand trial at the ICC, and even wondered, "Why are we going after the president of Sudan (at the ICC) for Darfur and not the president of Israel for Gaza?"

But as one could expect from an experienced attorney, the international law lecturer from Middlesex University now claims that most of his comments were taken out of context and is trying to persuade the Israeli public that he is not biased against their country.

"I have solid opinions on Israel's actions and its leadership, the same as the rest of the citizens of Israel," Schabas tells Yedioth Ahronoth. "It doesn't mean that this would impair my judgment."

Schabas insisted he is not anti-Israel and that he has visited Israel "many times."

On Tuesday, Schabas rushed to backtrack on his criticism of the prime minister, claiming that, "I did not determine Netanyahu was guilty. I said that in my opinion he should stand trial to examine this issue."

Schabas explains that his comments were made during a panel on the International Criminal Court, and the fact it does not put Western leaders on trial. "I said that who I would've liked to see there most is Netanyahu. I was of course echoing what was in the Goldstone report, which was that the ICC should deal with the conclusions of the Goldstone report, concluding the possibility of war crimes and crimes against humanity were committed during Operation Cast Lead."

Despite refusing to address the question whether he believes Israel committed war crimes, he says he would "examine the issue within the framework of the commission, and the next time I answer that would be when the conclusions of the report are submitted."

Schabas is cautious in talking about the new commission's work - and he won't commit to investigating Hamas attacks on Israel.

"Our mandate was given by the members of the (Human Rights) Council, and it determines we investigate violations of international law and war crimes committed only within the occupied territories during the fighting," he says.

While Israel believes the rockets launched from Gaza at Israel could fall under the commission's jurisdiction, Schabas is quick to lower such expectations.

"I cannot tell you what the commission is going to do in terms of interpreting its mandate," he says, "because I'm only one member and I haven't had a meeting with the other commissioners. We will have to agree on the interpretation."

While he declines to respond to the question of whether Hamas is a terrorist organization, he reiterates that he intends to investigate the fighting in Gaza in as neutral and objective a manner as possible.

"What someone who sits in the commission or a judge has to be able to do is to put these things behind them and start fresh. And this is of course what I intend to do."

Schabas is also not oblivious to the hypocrisy of the international community. According to him, "there's a lot of double standards in the United Nations," because the different world powers have great influence in the organization, which aids them - unlike Israel - to avoid having to answer for their actions.

"The fact that there's no inquiry into Russia and into the United States is obviously explained by the fact that those countries dominate not only the Security Council, but also have a huge amount of political influence in bodies like the human rights council. We unfortunately live with that as a reality in the world situation," he says.

Schabas is urging the Netanyahu government to cooperate with the commission, claiming that "it's in Israel's best interests to give its version of events."

He warns that a decision by Israel not to cooperate, as it also decided in the case of the Goldstone inquiry, could backfire.

"If it doesn't do so, what will unfortunately happen is a one-sided picture of events."