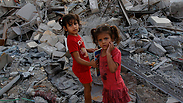 Palestinian children in the rubble of Gaza
Photo: EPA
After a month of bombing from Israel in response to rocket fire from the Palestinian militant groups, Gazans are starting to be vocal in their criticism of Hamas, the Washington Post reported Wednesday.
Hamas has "committed many mistakes," Ziad Abu Halool, who works for the Gazan government, told the Post. "All the Palestinian factions should stop firing rockets. It's enough. We've been suffering."
The rockets, which were fired from residential areas, mosques and schools in Gaza into Israeli towns and cities, drew a harsh response from the IDF. The army also sent in ground troops to find and destroy the tunnels used by Hamas and the other militant groups to ferry weapons and fighters - and to send terrorists into Israeli border communities.
Rafaat Shamiya, 40, a resident of Beit Lahiya in northern Gaza, condemned the rocket fire from residential areas, as it inevitably resulted in an IDF reaction.
"When they fire from here, Israel repays us with an F-16 airstrike," Shamiya told the newspaper. He said, however, that he primarily held Israel to blame for the destruction in Gaza. "We don't have the power to fight the Israeli. While he is sitting in his office in Israel, he can destroy all of Gaza by remote control."
Meanwhile, the paper said, other Gazans are criticizing Hamas for not accepting an Egyptian ceasefire proposal after the first week of the IDF operation, which began on July 8.
"All the people are whispering, 'Why didn't Hamas accept the Egyptian initiative in the beginning of the war when the casualties were still low?' " the Post quoted Palestinian journalist and political analyst Hani Habib as saying.
The militant groups "should have accepted the cease-fire," Hathem Mena, a 55-year-old teacher, also told the paper. "It would have stopped the bloodshed. We are the ones affected by the war, our houses and our lives. The destruction is over on this side, not the Israeli side."
Other Gazans don't believe that Hamas will help in the rehabilitation of the Strip, which was heavily damaged by the IDF bombardments.
"They just fight Israel, and then they leave everything," 20-year-old Mahmoud, identified only by his first name, told the Post. "The people will pay the price."