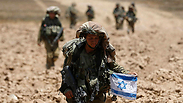 IDF troops (Illustrative)
Photo: Reuters
A Jewish American citizen who served as a US Marine was arrested this month upon arrival in Israel, for purportedly dodging his compulsory military service in the IDF.

David K., 28, has for the past week and a half been held at an IDF base.

David was born in Germany and immigrated to Israel with his family at the age of 10. In 2005, following his parents' divorce, he moved to Germany to live with his father and shortly after immigrated to the US, where he later joined the US army.

Related stories:

At a hearing at the military court in Tel Aviv, David claimed that his father informed him that the issue of his military service had been resolved. Recently, he was honorably discharged from the Marines, with the rank of sergeant and numerous medals. He arrived in Israel to offer support to his younger brother who was in the IDF and fighting in Gaza during Operation Protective Edge.

"I came to volunteer and they put me in jail," said the former Marine at the hearing.

"It's unthinkable that military service in the US, which is our greatest ally, is not recognized in Israel," said his attorneys.

"Among friends one does not need a written agreement. Being a Jewish patriot who loves Israel, David came here especially at a time of war; to morally support the IDF military operation in Gaza," they said.

His lawyers have also appealed to the Prime Minister's Office, Foreign Minister Avigdor Lieberman, the US embassy and office of IDF Chief of Staff Benny Gantz, but have not yet received any response.

A US Marine Corps representative who attended the hearing at the Kirya base said that David served four years in the Marines and has four additional years in reserves, during which he is not allowed to serve in another army.

IDF judge Major Shahar Greenberg commented that, "this was a unique case and the prosecution needs to consider the appropriate legal procedures that should be taken". However, despite the judge's suggestion and the fact that David was willing to volunteer in the IDF, he remains in custody.

The IDF spokesperson said in response that, "David had been arrested for evading IDF draft since 2005. The military court accepted the prosecution's remand request in order to file an indictment, after establishing that the defendant was aware of his IDF draft duty at the time of his departure.

"In addition, it has been determined that there was a cause to keep him in custody and the fact that he is currently serving in the US army has no crucial bearing at this stage," he added.

This is not the first time that a foreign resident with dual nationality has been accused of evading IDF military service. A different American soldier had previously been arrested for the same charges, but was freed after diplomatic intervention.

A separate incident involved 30-year old Canadian Israeli Yana Gorelik, who was jailed in 2012 for evading IDF draft. She was arrested at Ben Gurion Airport and convicted of desertion. After reaching a plea bargain she was sentenced to three months in prison.