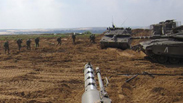 IDF forces near Gaza border
Photo: IDF
The IDF has begun concentrating forces along Gaza borders as sides met in Cairo to extend the ceasefire between Israel and Hamas set to end midnight Wednesday. The IDF say the forces are a contingency measure in case the talks fail to yield a deal.

Hamas meanwhile has said it will renew rocket fire at Israel should talks fail to yield "substantial progress".

According to the IDF, it has moved infantry, artillery and armed corps forces from what it calls "assembly areas" to "assessment areas" – where forces prepare for a possible operational activity. The IDF also said it has called up a number of reservists to back up regular forces in the field.

IDF Chief of Staff Lt.-Gen Benny Gantz said, "Hamas began this offensive by kidnapping the boys and is already beginning to understand what a large mistake it made. We will be ready to face off when the time comes.

"The IDF was prepared in advance to face any challenge we face. We were forced to sacrifice 64 soldiers and we might be called to lose more. We will continue to act and protect, any time and in any method we see fit. "

At midnight, a 72-hour ceasefire will expire. Though Egypt, who is brokering ceasefire talks between Israeli and Palestinian delegations, has urged sides to extend the lull by an additional 72 hours, the Palestinian militant factions from Gaza have yet to respond.

Israel has remained adamant its willingness to extent a ceasefire as long as rocket fire ends.




Hamas published a statement Wednesday, saying "We are now facing critical hours and all options are still open. We will not agree to extend the ceasefire if no significant progress is made in Cairo talks."

According to sources in Gaza, Hamas' military wing will make a statement later tonight. Hamas' Gaza spokesmen, Mushri Al-Masri said that should talks fail, "the military field will decide the rest."

Related stories:

The Israeli and Palestinian delegations will convene Wednesday for the third and final day of talks during the current 72-hour ceasefire, but Prime Minister Benjamin Netanyahu is concerned of the outcome of the cabinet vote on any agreement reached in Cairo.

Foreign Minister Avigdor Lieberman sounded massive dissent Wednesday, urging Israel to rid itself of Hamas.

"If we don't get rid of Hamas, we wouldn't be able to make progress on any reasonable agreement - not security-wise, nor diplomacy-wise," the foreign minister went on to say.

He criticized the willingness of some cabinet ministers to accept the long-term ceasefire deal taking shape in Cairo, saying "it can't be that the State of Israel is unwilling or unable to defeat 26,000 terrorists who are sitting here next to us and repeatedly threatening and interrupting the peace."

Finance Minister Lapid also sounded dissent Wednesday, and said "don't count on me as a sure vote."

Netanyahu summoned senior ministers late Tuesday night to discuss the developments in Cairo and to have a "preparation talk" as one minister called his conversation with the prime minister.

The impression gleaned by the ministers invited to the talks was that Netanyahu was troubled and worried from the possibility that the cabinet would reject the developing agreement.
Sensitive talks
A Palestinian official with knowledge of the negotiations said Egypt had presented a new proposal for a permanent truce agreement that addressed a major Palestinian demand for a lifting of the Israeli and Egyptian blockades of the Gaza Strip.

Israel and Egypt harbor deep security concerns about Hamas, the dominant Islamist group in the small, Mediterranean coastal enclave, complicating any deal on easing border restrictions.

It was unclear from the official's remarks how those worries, along with Israel's demand for Gaza's demilitarization, would be dealt with. Hamas spokesman Sami Abu Zuhri said disarming was not an option.

Israeli negotiators returned to Egypt after staying overnight in Israel with the truce in the month-old hostilities - which have killed 1,945 Palestinians in the Gaza Strip and 67 on the Israeli side - due to expire at 2100 GMT.

Palestinian delegates and Egyptian intelligence officials reconvened for talks that could go down to the wire.

Azzam Ahmed, an official of the mainstream Fatah party who heads the Palestinian team in Cairo, said the negotiations were at a very sensitive stage and it hoped to reach a ceasefire agreement before the current truce runs out.

Egyptian and Palestinian sources said Israel had tentatively agreed to allow some supplies into the Gaza Strip and relax curbs on the cross-border movement of people and goods, subject to certain conditions. They did not elaborate, and in Israel, officials remained silent on the state of the talks.

A Palestinian demand for a Gaza seaport and reconstruction of an airport destroyed in previous conflicts with Israel has also been a stumbling block, with the Jewish state citing security reasons for opposing their operation.

But the Palestinian official said Egypt had proposed that a discussion of that issue be delayed for a month after the long-term ceasefire deal takes hold.

Yoav Zitun, Roi Kais, Attila Somfalvi and Reuters contributed to this report