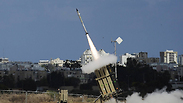 The nine Iron Dome missile defense systems were in many respects the heroes of Operation Protective Edge, with the system intercepting over 90 percent over rockets fired at population centers in Israel.

The system, which marked 1,000 interceptions since its first implementation in April 2011, also intercepted 10 mortar shells fired at Israel, a feat it was not directly designed to achieve.

Related stories:

During the month of Operation Protective Edge, the system hit over 600 rockets fired at Israel, a 90 percent success rate. The system does not intercept every rocket fired at Israel, but only those aimed at population centers.


A senior IAF officer told Ynet that the current lay out of the systems across Israel promise the "largest and widest aerial defensive shield Israel has ever enjoyed, and this includes (Iron Dome) and Patriot missiles."

According to IAF data, of over 3,500 rockets fired at Israel, roughly 1,000 were mortars and over 60 were long range capable of hitting Tel Aviv and Jerusalem.

"We saw persistent fire at Ben Gurion Airport and IAF bases," the officer said, noting that for the first time "a Patriot missile intercepted two UAVs (one equipped with a camera)."

The officer also noted that the air force's alert and alarm system boasted a 99 percent accuracy level.

The officer noted that Iron Dome is not automatic and soldiers operating its radars and comments were forced to intervene many times when the rocket were aimed towards population centers, and the system failed to pick it up.

"It happened a number of times in the days leading up to the end of the operation near the area of Sderot when long range mortars were mistakenly marked as set to fall in open areas, but the operator intervened in within 2-3 seconds and sent an interception rocket on its way, in less than 30 seconds since the mortar was fired," he explained.

Nonetheless, 10 percent of the rockets fired at Israeli targets hit their destination, adding up to over 100 hits in Israeli cities and communities.

"We were hoping for 80 percent success rate, like was the case in the last operation, but we got more. Most of the cases in which the system didn't work failed from technical glitches related to the statistical computation the system does, and very rarely as a result of human error," the officer said.

The next challenge the IAF face is creating a short range defense system able of intercepting mortars with a range smaller than 5 km. The mortars have been terrorizing residents living close to Gaza.

Despite the fact reports have said Israel is separately developing Iron Beam, a laser system for vaporizing short-range mortar bombs and says it also will be able to destroy small drones, the official said "there was no foreseeable solution."