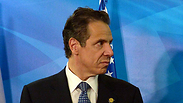 Andrew Cuomo in Israel.
Photo: GPO
New York Governor Andrew Cuomo spent Wednesday afternoon in meetings with Prime Minister Benjamin Netanyahu and President Reuven Rivlin during a trip to Israel to "stand in solidarity" with Israel in light of the ongoing conflict with Hamas in the Gaza Strip.

"We understand what you are facing and we support your right, your leave to defend your people against terror," Cuomo told the prime minister. "Unfortunately in New York, we've had a rude awakening to the pain and suffering that terror can cause in 9/11. So we have a special sensitivity in our hearts for what you're going through now."

Netanyahu spoke alongside the governor saying, "I want to thank you for coming here, for standing clearly with Israel (and) representing the American people and the people of New York. I thank you for coming here and standing on the right side of the moral divide."

"We wish you peace, everyone hopes that the killing will stop and we can get to a place of peace," responded Cuomo. "I know that's your hope. You've been quite articulate and eloquent on the subject, but we understand that Israel must defend itself."

The governor later met with President Rivlin saying, "The United States has always been a strong ally of Israel on many levels. We've felt that especially strong in the State of New York. There are 1.7 million Jews in the State of New York, more than anywhere else besides Israel."

Rivlin praised Cuomo's visit of solidarity saying, "We appreciate very much the delegation that really gives us the atmosphere of politics in the United States of America, of the unity and the ability of both sides of the political system to be here together, which shows a lot of appreciated and support for Israel."

"We have, unfortunately, real troubles with terrorist organizations," said Rivlin. "We have the duty, not only the right, to protect our people. We are very sure that if we will be forced to another round (of fighting in Gaza), you will support us and give us all that we need in order to say to the terrorists - there is no way that you will bring down Israel."