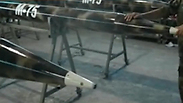 Al-Aqsa TV, the official Hamas-run television channel aired a report on Wednesday allegedly documenting operatives of Hamas' Military Wing, the Izz ad-Din al-Qassam Brigades, continuing to produce rockets of the kind that were fired towards the Tel Aviv area, the Shfela and Dimona. The report included footage of the rocket assembly process.
In an effort to show that the footage was taken during recent days, a television screen is shown in the background of the broadcast, displaying an al-Jazeera report about terror tunnels that was broadcast last week.
Production process continues ( )
Later on, captions with the date 'August 7' appear, along with the sentence "despite the aggression, the production process continues from the factory straight to the battlefield," Israeli media reported.
Local media further reported that Hamas spokesman Sami Abu Zuhri stated in response to the broadcast that "the continuation of the production of rockets during the fighting is a message we give to our allies and enemies."