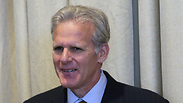 Former Israeli ambassador to the US Michael Oren
Photo: Alex Kolomoisky
It would be "impossible" for Israel to go around the White House's back to get a resupply of arms from the Pentagon, former Israeli ambassador to the US, Michael Oren, told Ynet on Thursday, in response to a report in the Wall Street Journal.
Michael Oren speaks to Ynet (צילום: אורי דוידוביץ וולדימיר רוטנשטיין)
"There is a claim in the Wall Street Journal that Israel went around the back of the United States to get a resupply of ammunition from the Pentagon, that it didn't get permission from the White House. I can only tell you as an ambassador that is impossible because there's a very specific and deeply embedded procedure for doing that and Israel, in order to get access to preposition military equipment in this country, American equipment, has to go through the administration," Oren said.
According to the Journal, the US halted a transfer of Hellfire missiles to Israel after the Netanyahu government bypassed US President Barack Obama and Secretary of State John Kerry and turned straight to the Pentagon to secure $3 million worth of lethal munitions, including 120-mm mortar shells and 40-mm illuminating rounds.
But Oren stressed the report hasn't been confirmed by the United States government.
Oren noted there are differences of opinion between the United States and Israel over Operation Protective Edge, specifically over the degree to which Israel has taken steps to minimize Palestinian casualties, and the operation's end game.
And while Israel can deal with Hamas without Washington's help, Oren believes Israel does still need the United States.
"At the end of the day you need the United States both for a diplomatic Iron Dome, if the UN was going to condemn Israel or sanctions Israel. You need to United States for purely military terms. The Israeli army uses military equipment, we receive well over 3 billion dollars a year in military aid from the United States. All of that is vital to Israel's security," Israel's former ambassador to Washington said.
But while the relations between the two nations could be in a better place, Oren doesn't believe diplomatic ties were on a slippery slop.
"I think the historical alliance is that deep and multi-faceted. America has excellent relations with France, Britain, it doesn't necessarily have the same spiritual ties. America is the most religious industrialized country in the world. People forget this - people go to church in the United States - and people have a very strong connection to Israel through their faith," he said.
"Then there's also the strategic connection. There's one democratic country in this area, which is vital to American security, which is scientifically and technologically, militarily strong and very very pro-American," Oren added.
Oren noted the personal relationship between the prime minister of Israel and the president of the United States were "crucial," there are many other relationships between the two nations - between American and Israeli legislators, between the citizens of both countries and commercial relationships.