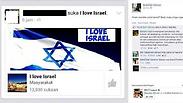 'Like' gets teen in hot water
A Malaysian teenager is being investigated by police for sedition after "liking" a pro-Israel Facebook posting, sparking outrage over perceived growing intolerance in the Muslim-majority country.
The 17-year-old student in the northern state of Penang had "liked" a post that declared "I love Israel" and featured a picture of the Jewish state's flag, Penang police chief Abdul Rahim Hanafi was quoted as saying Wednesday by Malaysian media.
Abdul Rahim reportedly said a sedition probe was under way and that the student claimed to have accidentally clicked "like". Police also are investigating death threats against the student.
Sedition can result in three years in jail in Malaysia. The student, who has been questioned by police, has deactivated his Facebook account. He has not been publicly identified.
Malaysia has no diplomatic relations with Israel. The Jewish state's policies toward the Palestinians are fiercely criticised by Malaysian Muslims, sentiments that have been inflamed by the ongoing deadly conflict in Gaza.
The episode is the latest in a series of incidents to stoke public fears in multi-ethnic, multi-faith Malaysia of mounting intolerance under the decades-old regime dominated by majority Muslim Malays.
In the most high-profile example, minority Malaysian Christians are under pressure from the government and Muslim groups to cease using the Arabic word "Allah" to refer to the Christian God in the Malay language, which Christians say they have done for centuries.
Muslims assert "Allah" is a sacred word for Islam only.
Communication Minister Datuk Seri Ahmad Shabery Cheek also triggered harsh online criticism recently when he said authorities would "study" whether to block Facebook after a posting appeared that was deemed insulting to Malaysia's Islamic royalty.
Osman Hussain, Penang's state director of education, told AFP on Thursday he would seek to resolve the incident without police involvement.
"He is just a student. I will try to solve the issue peacefully," he said.
The affair has triggered harsh criticism online.
"Using the same twisted logic, all Malaysians using Facebook are also committing sedition as Facebook is founded by a Jew," said one reader posting on popular online news portal Malaysiakini, denouncing such "extremism".