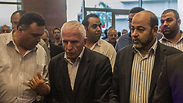 Palestinian delegation in Cairo
Photo: Reuters
Senior Hamas and Islamic Jihad members say that the proposals that Palestinians received during the negotiations in Cairo, including those detailed in the latest Egyptian draft, do not meet their demands, Israel Radio reported. Hamas' foreign affairs spokesman Osama Hamdan said during a visit to Sudan that Israel has a choice: accept the terms of the Palestinian people or prepare for a prolonged war of attrition.
According to the report, a senior Islamic Jihad operative in Gaza said that the Palestinian delegation will not sign a degrading agreement and would prefer to return to the Strip without any agreement. However, he added that his organization would give Egypt enough time to conduct successful negotiations on a permanent ceasefire.
Speaking ahead of the renewal of the talks in Cairo on Sunday, Khaled al-Batesh, member of the Palestinian envoy in Cairo and leader of the Islamic Jihad Movement stressed that "the Palestinian factions have put forward reasonable and limited aims for the current campaign, and didn't ask for the release of the city of Ramla." Al-Batesh also criticized the Egyptian efforts, saying the country "could have done more for the Palestinians."
Meanwhile, Bassam Salhi, a Palestinian delegation member, said that progress is being made in the talks but that the chances of reaching an agreement in the upcoming round of talks are no greater than 50% due to differences of opinion on several issues, the report added. According to Salhi, the Palestinians are prepared to postpone the discussion of operating a seaport and airport in Gaza, but only by several weeks.
Two-pronged formula
On Friday, a report from an Egyptian news source published additional details of the current ceasefire draft from talks in Cairo, saying that the document stipulates that organizations in Gaza will concede to cease the construction of new smuggling tunnels in and out of the Strip.

Palestinian officials expressed optimism regarding the proposal currently on the table, meant to reach a long-term ceasefire in Gaza, as Israel's Cabinet convened, presumably to discuss the looming deal.

Palestinian source close to the talks spoke with Ynet and said the current ceasefire deal was based on two simple formulas which together formed the agreement: (1) A ceasefire deal in return for Gaza's rehabilitation, and (2) redevelopment of Gaza in return for demilitarization of the Strip.

The two pronged deal will be gradually implemented, the sources said.

Economy Minister Naftali Bennett seemed to hint a deal existed, but said that Israel should make unilateral concessions to Palestinians in Gaza without actually reaching an agreement with Hamas, which he claimed would empower the terror group.

Speaking at the end of Cabinet meeting Friday morning, Bennett said Israel should open Gaza's border crossings and expand the Strip's fishing zone unilaterally, without reaching a deal with Hamas, which he said "harms our right to target (terror) tunnels."