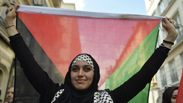 Pro-Palestinian protest in France.
Photo: AFP
Pro-Palestinian protesters ransacked a Tesco in England Saturday while harassing staff and customers in the store, reported the Telegraph. The demonstrators wanted the major supermarket to stop selling food imports from Israel and police confirmed that one man had also been arrested for assaulting an offering during the demonstration.

The protests included some 100 people, who gathered in front of the Tesco in Hodge Hill, Birmingham, said the Telegraph report.

One customer took to social media after the incident saying, "I was just in the Tesco in Hodge Hill, scanning my items and I heard chanting. Then a group of Asian men holding Palestinian flags came walking in and starting to push products over and getting aggressive with staff and shoppers. Police officers tried to stop them but I ran out."

a West Midlands Police spokesperson said, "Our officers dealt with a protest at Tesco Hodge Hill this morning where some disorder was reported. One arrested for assaulting police. The protest was largely peaceful among the 100 protesters but some began throwing stock inside Tesco store. Two were escorted from the premises."

Meanwhile, pro-Israeli activists could find a bright spot in England as the Guardian reported Friday that the Tricycle Theater of Kilburn, London, had decided to relax its opposition to hosting the UK Jewish Film Festival (UKJFF).

Related stories:

The theater was originally planning on showing 26 films during the festival due to be held in November, but then refused to play host, citing that the event is partially funded by a £1,400 grant from the Israeli embassy and saying that the festival should "not accept funding from any party to the current conflict."

The decision to drop objection to hosting the event was made after long discussions on the matter, but plans have already been made to hold the event in different locations, said The Guardian.

The UKJFF has been held at the Tricycle for eight running years. "Following lengthy discussions , the Tricycle has now withdrawn its objection and invited back the UKJFF on the same terms as in previous years with no restrictions on funding from the embassy of Israel in London," said a statement from the theater.

"The UKJFF and the Tricycle have agreed to work together to rebuild their relationship with a view to holding events in the future," said the statement.

"We both profoundly hope that those who take differing views on the events of the last few weeks will follow our lead and come together to acknowledge that dialogue, reconciliation and engagement will resolve points of difference and ensure that cultural diversity thrives in all communities."