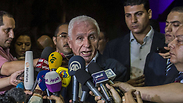 Head of Palestinian delegation: Azzam al-Ahmad
Photo: AFP
Israeli and Palestinian delegations renewed their indirect talks in Cairo Sunday, with Israel rejoining efforts to reach a long standing ceasefire deal in Gaza. Meanwhile, Israel's Cabinet was set to convene, with some ministers saying chances of deal were slim.

The Egyptian government persuaded both sides late Wednesday to adhere to a new five-day ceasefire, extending an earlier three-day agreement in order to allow more time to thrash out a longer-term truce.

But to Egyptian dismay, Palestinians also seem to be playing down the chance a long-term agreement, as international efforts backing Egypt's proposal have been rising, indicating powers like the US and UN could try to pressure the sides to reach an agreement. The US has already offered Israel assurences over its secuirty, a report claimed.

A member of the Palestinian delegation told The Associated Press on Sunday that the gaps between the sides were still significant and that it was far from certain whether a deal could be reached before the cease-fire expires.

"We are less optimistic than we were earlier," he said, his comments came after Hamas' political chief Khaled Mashal said Saturday his group would not back down from a single demand.

A senior Israeli Cabinet minister told Ynet that "it is very possible that talks will end without an agreement, and it is possible that this senior is preferable in comparison to the other options currently on the table."

Related stories:

A senior political source told Ynet that Israel is mulling its next steps, but said that "it is better for us if the Palestinians are the ones who say no, and this now seems to be the situation."

Another Cabinet minister said that despite ongoing talks, and past Israeli willingness to ease restrictions on Palestinians, "it is possible we are returning to a 'calm in return for calm' formula."

Cabinet minister, first and foremost Economy Minister Naftali Bennet say that any renewed rocket fire will be met with a massive Israeli response, and the Cabinet is also said to be discussing the possibility of a renewed ground offensive in Gaza should aggressions start again.

Bennett told Ynet that even though he supports unilateral moves which would better the situation for Gaza while undermining Hamas control, he believes a ground offensive could topple Hamas within a number of months.

When fighting began Israel position was that any aggression by Hamas or Gaza militants would be met with aggression, while any calm would be met with calm. The logic behind the formula was Israel's reluctance to negotiate with Hamas, a group it, the US and many Western nations recognize as a terror organization.

Egyptian diplomats told the Turkish news agency Anatolia that Egypt is making efforts to persuade the two sides to resume the ceasefire until a final agreement is reached, rather than extend the ceasefire for a specified period of time.

According to the diplomats, the Egyptian mediators are striving to make the ceasefire permanent.

One of them explained: "We wish to prevent the spilling of blood of the Palestinian people. We have a real desire to end the crisis.

"If we had a choice, we would have extended the ceasefire indefinitely, but the obstacle is the fear of the Palestinian side that its demands will not be met, while Israel will feel safe when the ceasefire comes into effect."

Meanwhile, as Israeli and Palestinians mull reaching a deal, the Egyptian proposal has garnered broad international support, Al-Hayat reported.

According to the report, the US has told Egypt that it guarantees that Israel will be committed to what was agreed upon so far. The US also reportedly offered Israel assurances for its security in return for reaching a deal.

Speaking to Reuters, an Israeli official said after Friday's Cabient meeting that any deal struck in Egypt had to "provide clearly for security arrangements" for Israel.

It was further reported that UN Secretary-General Ban Ki-moon has informed Egypt that he supports the proposal.

"A return to the status quo prior to the latest conflict is not an option," said the EU Council on Friday following a foreign ministers' meeting in Brussels, also backing a deal.

The talks are expected to resume on the basis of an Egyptian proposal, seen by AFP, which calls for a lasting ceasefire beyond Monday midnight, and new talks on the thorniest issues, including demands for a seaport and airport in Gaza, to begin in a month's time.

Negotiations about handing over the remains of two Israeli soldiers in exchange for the release of Palestinian prisoners in Israeli jails would also be postponed, according to the document.

A buffer zone along Gaza's border with Israel would be gradually reduced and guarded by Palestinian Authority security teams.

The European Union welcomed the ceasefire in Gaza and said it was ready to expand a police mission in Rafah, on the border with Egypt, and train Palestinian Authority customs personnel and police for redeployment in Gaza.

It said EU police would monitor the transit of supplies needed for Gaza reconstruction and try to prevent weapons from being smuggled into the territory.
Hamas plays hard
Azzam al-Ahmad, who heads the Palestinian delegation at the Cairo talks, told AFP on Saturday he was quietly optimistic that an agreement for a longer-term truce could be reached.

"We have high hopes of reaching an agreement very soon, before the end of the truce, and perhaps even, very quickly, for a permanent ceasefire," he said.

But Hamas spokesperson Sami Abu Zuhri struck a hardline note, insisting that there can be no return to peace without a lifting of Israel's eight-year blockade of the beleaguered coastal enclave.

Hamas political chief Khaled Mashal told Al Jazeera that the Gaza-based organization would not concede on its demands. In an interview with the Qatari news network, Mashal said, "We want all the crossings to open; we want our own seaport, our own airport, and our central demand – an end to the occupation and the settlement industry."

Mashal called on the international community during the interview to work towards lifting the blockade on Gaza. "We want our residents in Gaza to not feel the burden of the blockade and to live a normal life."

The Hamas chief, who is headquartered in Qatar, told the network that "we want to protect our citizens, not to use the blood of the residents for our position in the negotiations. We want our demands to be accepted, but Israel is biding time and ignoring them."

At the same time, one of Mashal's close associates, senior Hamas official Izzat al-Risheq said Saturday that the organization has not agreed and will not agree to what was offered the Palestinian delegation before it left Cairo.

"We oppose any formulation that does not match the demands of the Palestinian people. There are many issues that the delegation did not agree to in what was offered," said al-Risheq, who represented Hamas in Cairo.

Al-Risheq's remarks joined earlier statements made by a senior Hamas official abroad, Ismail Radwan, who said Hamas refused to postpone deliberations on a seaport and airport – which according to the Egyptian proposal would not be discussed again until a month after an accord was signed.

Hamas' foreign leadership said Saturday evening that significant progress had yet to be achieved in the Cairo talks. "The draft presented this week by Egypt is not acceptable to us in any way, and it will not be the final formulation," Hamas said in a statement.

Elior Levy, Attila Somfalvi, AFP and Reuters contributed to this report