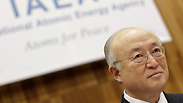 Head of International Atomic Energy Agency - Yukiya Amano
Photo: Reuters
Iranian President Hassan Rouhani told the visiting head of the UN nuclear watchdog on Sunday that Tehran will not discuss its long-range missile program as part of talks aimed at resolving a decade-long nuclear dispute, official media reported.

UN nuclear agency chief Yukiya Amano said Sunday's visit to Tehran was useful and that he was very glad to hear a firm commitment from Iran to resolve all outstanding issues through cooperation between the two sides.

Amano's trip came ahead of an Aug. 25 deadline for Iran to provide information relevant to the International Atomic Energy Agency's (IAEA) inquiry into what it calls the possible military dimensions of the country's disputed nuclear programme.

"Iran's missile power is not negotiable in any level under any pretext," Rouhani told Amano, the official IRNA news service reported.

The president added, however, that Iran is prepared to cooperate with the IAEA's probe into whether its civilian nuclear program has a military component, "since there is no room for using a weapon of mass destruction in Iran's defense doctrine."

"This has been a short visit, but a useful one," Amano said in Tehran after talks with President Hassan Rouhani and other senior Iranian officials, according to a statement issued by the IAEA in Vienna.

The state TV report Sunday said Amano landed in Tehran late Saturday. It said Amano also will visit with Iran's Foreign Minister Mohammad Javad Zarif and the head of its own nuclear agency.

Amano's visit comes as world powers continue to negotiate with the Islamic Republic for a permanent deal over its contested nuclear program. Those talks face a November deadline after an interim deal was struck last year.

The West fears Iran's nuclear program could allow it to build nuclear weapons. Iran says its program is for peaceful purposes.

The visit - announced by the IAEA on Friday - will be Amano's first to Iran this year and the third since 2012.

Western officials say Iranian clarifications of the IAEA's concerns would also advance efforts by six world powers to negotiate an end to a decade-old standoff over Tehran's atomic activities, suggesting some sanctions relief may depend on it.

With major gaps remaining over the permissible future scope of Iran's uranium enrichment programme, the talks between Iran and the United States, France, Germany, China, Britain and Russia were in mid-July extended until Nov. 24.

Iran says it is enriching uranium to generate electricity, and not to accumulate fissile material for a potential atomic bomb, as the West suspects.

Tehran rejects such suspicions as based on false and fabricated information from its enemies but has promised, since pragmatist Hassan Rouhani became president in mid-2013, to work with the Vienna-based UN agency to clear them up.

Under a phased cooperation pact hammered out late last year, an attempt to jumpstart the long-stalled IAEA investigation, Iran agreed in May to implement five nuclear transparency measures by Aug. 25, two of which directly dealt with the nuclear bomb inquiry.

However, so far there have been no public indications of any movement by Iran on the agreed steps.

A brief statement issued by the U.N. agency on Friday said, without elaborating: "The director general of the IAEA ... will visit Iran for meetings on Aug. 17 with Iranian leaders and senior officials. The visit is part of the efforts to advance dialogue and cooperation between the agency and Iran."
Nuclear intelligence
Diplomatic sources told Reuters in late July that the IAEA - which is tasked with preventing the spread of nuclear weapons in the world - was concerned about Iran's lack of engagement with the investigation.
They said there was still time for Iran to meet its commitments, noting that Tehran had occasionally waited until the last minute to make concessions in the past.
But the slow pace of cooperation may reinforce an impression in the West about continuing Iranian reluctance to give the IAEA the information and access to sites and people that it says it needs for its investigation.
"Unless Iran addresses the IAEA's concerns ... the chance is reduced of successfully negotiating a long term nuclear agreement between the (six powers) and Iran," the Institute for Science and International Security think-tank said this month.
After years of what the West saw as Iranian stonewalling, Iran as a first step in May gave the IAEA information it had requested about its reasons for developing Exploding Bridge Wire detonators. These can be used to set off an atomic explosive device but Iran says they are for civilian use.
Tehran agreed to clarify two other issues by late August - concerning alleged work on explosives and computer studies related to calculating nuclear explosive yields.
They were among 12 specific areas listed in an IAEA report issued in 2011 with a trove of intelligence indicating a concerted weapons programme that was halted in 2003 - when Iran came under increased international pressure. The intelligence also suggested some activities may later have resumed.
The Associated Press and Reuters contributed to this report