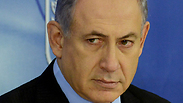 Prime Minister Netanyahu
Photo: Kobi Gideon, GPO
Prime Minister Benjamin Netanyahu addressed indirect negotiations currently underway in Cairo regarding a long term ceasefire in Gaza, and said that Israel's security needs must be addressed. Earlier Sunday, before the Israeli delegation to talks arrived in Egypt, Palestinians said chances to reach a deal were low.

"If Hamas thinks that it can cover up its military loss with a diplomatic achievement, it is mistaken. ," Netanyahu said.

"If Hamas thinks that continued sporadic firing will cause us to make concessions, it is mistaken. As long as quiet is not restored, Hamas will continue to take very harsh blows. If Hamas thinks that we cannot stand up to it over time, it is mistaken," he added.

"We are a strong and determined people. We have seen this in the amazing revelations of strength and resilience in the past weeks on the part of both our soldiers and our civilians. We will continue to be steadfast and united until we achieve the goals of the campaign – the restoration of quiet and security for all Israelis," the prime minister said.

"We are in the midst of a military and diplomatic campaign," Netanyahu said at the beginning of the government's weekly Cabinet meeting, in which ministers were said to be discussing the ceasefire, as well as a military contingency plan should talks fail to yield results.

"From the first day, the Israeli delegation to Cairo has worked under clear instructions: Insist on the security needs of the State of Israel," the prime minister said, adding that "Only if there is a clear response to our security needs will we agree to reach understandings."

According to the prime minister, "In the past month Hamas has taken a severe military blow. We destroyed its network of tunnels that it took years to dig. We intercepted the rockets that it had massed in order to carry out thousands of deadly strikes against the Israeli home front. And we foiled the terrorist attacks that it tried to perpetrate against Israeli civilians – by land, sea and air."

Finance Minister Yair Lapid, who is also a member of the Security-Cabinet, said that "we must demand safety for Israel's residents. We must make sure that they feel safe and we cannot complete this operation without them feeling secure again."

Lapid further noted that "we must create an international mechanism to make sure they are safe."

Intelligence Minister Yuval Steinitz said that "the most important thing for Israel is the demand that Gaza be demilitarized." When asked about the Palestinian demand that Gaza get a seaport, the minister said such a port would be a "duty-free for rockets – and in the future Scuds (missiles).

"We will continue talks in Cairo, but we cannot give up on the issue of demilitarization."

Economy Minister Naftali Bennett, who is leading a group of ministers objecting to negotations, called on Israel to leave talks, and implement the unilateral proposal he has been promoting for the last two weeks.

"The current situation in which we are biting our nails waiting for the response of a murderous terrorists group must end. We must stop the negotiations with Hamas and take our fate into our own hands: Humanitarian (aid) yes, terror no," Bennett said.

Tourism Minister Uzi Landau, a rightist from the Yisrael Beitenu party, slammed the government from the right, and said "Hamas is managing us, we are being led," he claimed,

"Israel is attempting to reach calm at any price. This is only a temporary calm. In all the previous rounds of fighting after calm was reached we got a more aggressive response. We are turning Hamas into an international player."
Little optimism as talks start again
Talks in Cairo started again Sunday morning, with the Israeli delegation arriving while the Cabinet convened. The Egyptian government persuaded both sides late Wednesday to adhere to a new five-day ceasefire, extending an earlier three-day agreement in order to allow more time to thrash out a longer-term truce.

But to Egyptian dismay, Palestinians also seem to be playing down the chance a long-term agreement, as international efforts backing Egypt's proposal have been rising, indicating powers like the US and UN could try to pressure the sides to reach an agreement. The US has already offered Israel assurances over its security, a report claimed.

A member of the Palestinian delegation told The Associated Press on Sunday that the gaps between the sides were still significant and that it was far from certain whether a deal could be reached before the cease-fire expires.

"We are less optimistic than we were earlier," he said, his comments came after Hamas' political chief Khaled Mashal said Saturday his group would not back down from a single demand.

A senior Israeli Cabinet minister told Ynet that "it is very possible that talks will end without an agreement, and it is possible that this senior is preferable in comparison to the other options currently on the table."

A senior political source told Ynet that Israel is mulling its next steps, but said that "it is better for us if the Palestinians are the ones who say no, and this now seems to be the situation."

Another Cabinet minister said that despite ongoing talks, and past Israeli willingness to ease restrictions on Palestinians, "it is possible we are returning to a 'calm in return for calm' formula."

Cabinet minister, first and foremost Economy Minister Naftali Bennet say that any renewed rocket fire will be met with a massive Israeli response, and the Cabinet is also said to be discussing the possibility of a renewed ground offensive in Gaza should aggressions start again.

Bennett told Ynet that even though he supports unilateral moves which would better the situation for Gaza while undermining Hamas control, he believes a ground offensive could topple Hamas within a number of months.

When fighting began Israel position was that any aggression by Hamas or Gaza militants would be met with aggression, while any calm would be met with calm. The logic behind the formula was Israel's reluctance to negotiate with Hamas, a group it, the US and many Western nations recognize as a terror organization.

Egyptian diplomats told the Turkish news agency Anatolia that Egypt is making efforts to persuade the two sides to resume the ceasefire until a final agreement is reached, rather than extend the ceasefire for a specified period of time.