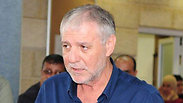 Meir Cohen visits Hura
Photo: Herzl Yosef
Welfare and Social Services Minister Meir Cohen met with the heads of the Bedouin municipalities in the Negev on Monday to advance welfare and social services in these communities.

Cohen spoke of the Israeli public discourse against the Arab sector in recent days, which has quickly turned into a wave of incitement that has swept the entire nation. This incitement reached a new high on Sunday when a radical right wing organization decided to protest the wedding of Mahmoud Mansour, a Muslim Arab from Jaffa, to Morel Malcha, a Jewish Israeli who also lives in Jaffa and had converted to Islam.

"Unfortunately, it's not nice to be an Arab in Israel these days," Cohen said.

"There's been unnecessary stridency among us, which has no place in our society. Beginning with the murder of the teen Mohammed Abu Khdeir, that goes against all of our Jewish values, as well as the harsh verbal violence we came across on social media and on other platforms. Our strength comes from our ability to contain opinions and the ability to express our opinions. While we denounce phenomena like MK Hanin Zoabi, we must not hurt the general Arab population, which is equal to any other population."

Cohen's visit focused on the issue of bomb-protecting the Bedouin municipalities. During Operation Protective Edge, a man from the Bedouin diaspora, Aluj Uday, was killed and four others were wounded, among them a baby and a young boy, in a rocket attack near Dimona.

The welfare minister called on the government to bomb-protect the Bedouin communities and announced the launching of a joint committee with the Bedouin municipality heads that will meet once every two months to work on narrowing the welfare gaps between the Bedouin diaspora and the rest of the country.

"I was among the first to arrive at the scene of the rocket explosion, and saw the victim. The state won't be able to put bomb shelters in the entire area, but it is 100% obligated to provide fitting bomb-protection to the Bedouin municipalities. The rockets make no distinction between Rahat and Ofakim, or between Hura and Netivot. I'm promoting (a plan) to bomb-protect all of the Welfare Ministry's institutions in the Bedouin municipalities," Cohen said.

The welfare minister criticized the Arab MKs: "While it makes sense for Israeli-Arabs to identify with the Palestinians, I expect the (Arab) MKs to also take care of education, culture and sewage in the Arab municipalities. They're not taking care of their public."

The chairman of the Bedouin communities and mayor of Rahat, Talal al-Krenawi, agreed with Cohen, saying "I think the Arab MKs need to focus on internal problems more and less on external problems."