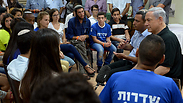 Prime Minister Benjamin Netanyahu with the teenagers in Sderot.
Photo: GPO
As the end of the current five day ceasefire in Gaza approached, Prime Minister Benjamin Netanyahu visited Sderot Monday afternoon and met with children and teenage residents of the town that faced the brunt of rocket fire from Gaza during Operation Protective Edge.

Netanyahu asked the minors to share their experiences during the war before meeting with the mayor of Sderot, Alon Davidi and updating him on ceasefire talks in Cairo and what can be expected regarding the town's security. Sources who attended the meetings said that the prime minister revealed nothing new about the situation.

During the meeting with the teenagers, Netanyahu spoke with 15-year-old Hillel Berali who will go back to school in September. "The prime minister wanted to know what we went through during the last three weeks," Berali told Ynet. "We told him that while we were in Sderot we volunteered assisting the elderly and establishing children's activities in the city and in shelters."

Related stories:

Berali told Ynet that Netanyahu asked the teenagers about the fears and how they dealt with the situation. "He was surprised to hear that during most of the operation we stayed in Sderot," she said.

The prime minister said that although the operation had interfered with the kids' summer vacation from school, every one of them had an empowering personal experience of maturation and social unity.

"The public's resilience, and yours, gives us considerable strength to use considerable strength," said Netanyahu. "We are in the midst of a diplomatic campaign and in a diplomatic campaign, one needs the same thing – one needs much strength, patience, persistence and wisdom as well."

Mayor Davidi thanked Netanyahu for his support and said, "I see the warm embrace and the commander's spirit; all government ministries have lined up alongside Sderot and are coming to see how they can be of assistance. The IDF and you have defended us; you sent the IDF to defend us, and we hope that anyone who so much as thinks of harming our children will be struck very hard."