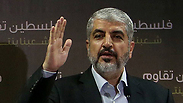 Khaled Mashal sees surge in popularity despite Gaza devastation
Photo: AFP
Hamas leader Mashal sees surge in popularity despite Gaza devastation
'For first time in years, we've seen support for Hamas increase and bypass Fatah in West Bank,' analysis says, after 66 percent of West Bankers said they believe Mashal played a 'positive' role during Gaza war while only 13% said same about Abbas.
Despite talk of a rise in popular pique at Khaled Mashal, the Hamas leader-in-exile has nevertheless emerged from the month-long siege of Gaza with a solid majority of Gazans feeling he casts a "positive" image.

Though he followed the fighting in Gaza from the safe distance of 1,200 miles while the Strip suffered carnage and devastation, according to one Palestinian pundit, Mashal is rising from the ashes of Gaza as the figure its residents most desire to lead them.

According to Dr. Hani Al-Basoos, a Gaza-based security and political analyst, it's exactly the distance between Gaza and Doha where Mashal lives that was instrumental in honing his image and solidifying his leadership role. Other leaders – the ones who remained in Gaza, albeit underground during the fighting - were removed from the public's daily perception, Al-Basoos told The Media Line.

"You could not see any one of them because they might be a target for an Israeli air strike." Mashal has profound edge over the Gaza-shut-in leadership in his ability to move around and be seen constantly on television, often from Qatar. His prominence in the Egyptian-mediated talks also provided him with access to Cairo that would arguably be denied to him because of Hamas' relationship to the Muslim Brotherhood, banned and vilified by the Al-Sisi regime.

Related stories:

The 58-year old Hamas leader was born near Jerusalem and moved to Kuwait shortly after the outbreak of the 1967 war and joined the Muslim Brotherhood in 1971. When former Iraqi President Saddam Hussein invaded Kuwait in 1991, Mashal moved to Jordan where he became the Hamas bureau chief.

Then-Israeli Prime Minister Binyamin Netanyahu suffered one of the largest embarrassments during his first term of office in 1997 when he ordered Mashal poisoned for his role in attacks against Israeli citizens. But the assassination attempt failed and resulted in a deal struck between Netanyahu and an angry King Hussein, through which Mashal was provided with the antidote to the poison.

Following years of living in Damascus under the protection of Syrian President Bashar Assad, Mashal was in all practicality exiled again as the civil war heated up, placing the Hamas leader in an uncomfortable political position. His move to Doha was predictable based on the strong support Qatar provides to Hamas. Once the fighting began in the Gaza Strip, his access and visibility became far greater than Gaza-based chief Ismail Haniyeh or any of his other comrades and according to many, making him the best choice to lead Hamas.




In the opinion of Al-Basoos, the Mashal paradigm will stay around for the foreseeable future. "Any leader of Hamas that follows, will have to be outside of Palestine because he will have to have freedom of movement and a relationship with the international community," the Islamic University professor told The Media Line.

He said Hamas was losing popularity during the four or five months leading up to the Gaza war, but has since regained what was lost and added to it as a result of its confrontation with Israel. "Because of its ability to fight the occupation forces, it gained more popularity and if we have elections now, Hamas will most likely win," he said.
Mashal's success, Abbas' failure
During the first two weeks of fighting, the Arab World for Research and Development (AWRAD) polled 300 West Bank Palestinians and 150 Palestinians deemed to be "opinion leaders" on issues relating to the war. Because of the war, it was not possible to poll Gazans.

The result of the citizens' poll was that 66% of West Bankers – presumed to be Fatah-leaning – believe Mashal played a positive role during the Gaza war while only 13% felt Palestinian Authority President Mahmoud Abbas's role was equally positive. Although the "opinion leaders" disagreed, finding Mashal's role as negative, they did agree that "Abbas did not do a good job."

"For the first time in three or four years, we've seen that support for Hamas has increased and bypassed Fatah in the West Bank," said AWRAD General Director Dr. Nader Saeed, explaining that the questions were very specific to how every leader is dealing with the subject of a cease-fire.

Hamas polled 31% "positive" to Fatah's 25%. "This a major decline for support of Fatah from 40% and that's an 11% increase of support for Hamas. For Mashal, in terms of the resistance, in terms of the war in Gaza, he is doing well because he is part of a product position. But personally, I don't think he has a chance (of winning out over Fatah/Abbas) among Palestinians because he is outside of Palestine and is seen as a follower of regional politics instead of Palestinian politics," opined Saeed.

He also predicts that Hamas' popularity will revert to pre-war levels and Mashal's personal popularity along with it. Disagreeing with Al Basoos, he says Palestinians will ultimately favor former Hamas Prime Minister Haniyyeh. "Under the rubble now, a great deal of the truth is missing. It's a "lose-lose" situation for Hamas and Mashal, 'when things settle down in Gaza.'"

Saeed says the bigger question is what the future holds for Abbas and Fatah and whether their popularity will return. The Palestinian President was harshly criticized by the people for having what was perceived to be an inactive role and for keeping a low profile during the Gaza war.

"I don't think Abbas and Fatah will be able to return to their pre-war standing." Hamas is going through a crisis and is trying to present itself as a defender of Palestinian rights, Saeed says. But the reality of it is that they are relying on Qatar and Turkey to support their position while it's Egypt that is "the main pillar of Palestinian politics. People know that Egypt has fought wars for Palestine," he says.

He uses the waning popularity of Al-Jazeera television as proof of Qatar's declining influence. The Qatar-based network has lost 50% (25%, down from 75%) of its Palestinian viewership during the past 3 years. "More and more people are seeing Al-Jazeera and Qatar as trying to divide Palestinians," according to Saeed.

Jordan-based analyst Daoud Kuttab agrees that "Mashal and Hamas came out of the war stronger than they were before the fighting, but says, "I don't think this popularity will be long lived and I doubt it will translate directly to high votes in national elections," he told The Media Line.

Kuttab says that the situation on the ground and internal Palestinian unity has precedence over all other issues and admonishes Palestinians not to accept conditions that go against their higher interests.

"Qatar has acted as it has in the past using its money, media and other influences to remind the world that Qatar exists and must be taken seriously," he said. The Egyptian website, "Dotmasr" quoted a former Egyptian official as saying Qatar paid Hamas $50 billion dollars not to agree to the first cease-fire proposed by Egypt, the acceptance of which would arguably have prevented 90% of the Palestinian casualties.

But Al-Basoos is skeptical of the report, calling it "baseless." He says this is not the first time Qatar and Egypt have exchanged accusations. While he says Qatar does not have the political and military capabilities that Egypt has, Doha, he says, would never use its money to harm the Palestinians. He also says that Israel would never allow Qatar to be the mediator and Egypt is the only state that can "get the Palestinians and Israelis to some middle ground."

Meanwhile, Kuttab says he would have liked Abbas or at least Palestinian Prime Minister Hamdallah to be in Gaza during the war. "But," he says, "the time for politics is after the guns stop."

Article written by Abdullah H. Erakat

Reprinted with permission from The Media Line