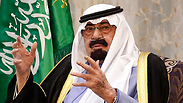 Saudi King Abdullah
Photo: Reuters
Saudi Arabia executed four people from the same family Monday for attempting to smuggle "large quantities" of hashish into the kingdom, officials and a rights group said, taking to 17 the number of people put to death in the conservative Islamic kingdom in two weeks and prompting disquiet from international rights groups.
The Interior Ministry said they were executed in southern Najran province near Yemen after they were found guilty by three courts, including an appeals court.
Related stories:
An Associated Press tally shows their deaths bring to 32 the number of people executed this year in the kingdom.
Saudi Arabia's Sharia Islamic legal code is not codified and gives extensive powers to individual judges to base verdicts and sentences on their own interpretation of Muslim law.
Activists say the system means similar punishments can result in very different sentences. Judges can also prevent defendants from having access to lawyers and can close their courtrooms to outside scrutiny.
Hadi bin Saleh Abdullah al-Mutlaq, Mufreh bin Jaber Zayed al-Yami, Ali bin Jaber Zayed al-Yami and Awadh bin Saleh Abdullah al-Mutlaq, who were executed on Monday, were from Najran on the kingdom's southern border with Yemen, official media reported.
International human rights watchdog Amnesty International said the men were two sets of brothers from the same extended family and that the confessions their sentence was based on may have been obtained through torture.
The rights group said the four were put to death despite desperate last-minute efforts from family members to alert Amnesty International and others to allegations the men had also been tortured during interrogation, including with beatings and sleep deprivation, in order to extract confessions used against them in trial.
It said the offence had taken place in 2007 and members of the family had later been warned by the government not to contact Amnesty.
Saudi Arabia denies it practices torture.
Meanwhile, a Saudi Arabian court on Monday sentenced one man to death and 13 others to prison terms of up to 30 years for their part in a series of militant attacks against government and foreign targets last decade, state media reported.
The convicted men were part of a group of 50 being tried as a single militant cell and accused of murder and kidnapping, as well as bombing cars, government buildings and foreign residential compounds and plotting to assassinate government officials and attack embassies.
Prison terms for those convicted ranged from four years to 30 years. Sentencing of two others from the 50 was delayed to allow the court to hear more evidence, Saudi Press Agency reported late on Monday. The remaining 34 were acquitted.
Saudi Arabia has detained thousands of its citizens and sentenced hundreds of them after a campaign of bombings and killings from 2003-06 by an al-Qaeda group which killed hundreds.
Riyadh's concerns about domestic militants have grown as the wars in Syria and Iraq have led to what officials describe as a surge in radicalisation among their citizens, and have led some young Saudis to travel overseas to fight.
In February. King Abdullah issued a royal decree imposing prison terms on any Saudi who travels abroad to fight, or who encourages or helps others to do so.
The same decree also demanded jail for those who offer material or moral support for extremist groups, which the government later named as including al-Qaeda, Islamic State, Nusra Front, the Muslim Brotherhood, Hezbollah and Yemen's Houthi movement.
Last year the kingdom executed 79 people, mainly by beheading. Diplomats say a rise in the number of executions in recent years might be a result of more judges being appointed in Saudi Arabia, meaning cases are being handled more quickly.
King Abdullah ordered a series of legal reforms in 2007 that were partly aimed at making the justice system more transparent and predictable, but they have only been introduced slowly.
Reuters and the Associated Press contributed to this report