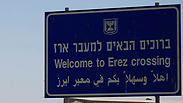 Erez Border Crossing between Israel, Gaza
Photo: Reuters
Report: Palestinian official says Israel gave up demand to demilitarize Gaza
After Egypt gets Palestinians, Israelis to extend ceasefire by additional day in final bid to cerement a Gaza ceasefire, an Abbas affiliate tells Army Radio that Israel has shifted its position from demilitarizing Gaza to making sure Hamas cannot rearm.
Ashraf al-Ajrami, the former Palestinian Minister of Prisoners Affairs and a close affiliate of Palestinian President Mahmoud Abbas, told Israel's Army Radio Tuesday that Israel has backtracked from its initial demand that Gaza be demilitarized as part of a long term Gaza ceasefire currently being negotiated in Egypt.

"There is a growing understanding among the Israelis that there is little chance of having this demand met," al-Ajrami told Army Radio's Good Morning Israel program. "The Israeli delegation will probably make do with preventing Hamas from rearming," he claimed.

His comments came as Palestinian and Israeli negotiators in Cairo were trying to hammer out a roadmap for the Gaza Strip after Israel announced late Monday night that it had agreed to extend the temporary truce in Gaza for 24 hours while – at Egypt's request – it continued to negotiate a permanent agreement.

As of Tuesday morning that sides were still in Cairo working to reach a long term deal on Gaza, and reports about the content of the agreement have been plentiful and rife with contractions, with some expressing optimism and other foreseeing a renewal in fighting.

Related stories:

Hamas official Izzat al- Risheq said Tuesday that "the decision to extend the ceasefire by 24-hours will be the last (such extension). If we do not succeed in reaching an agreement, then negotiations will end. We are not interested in prolonging negotiations anymore and most of the (Palestinian) delegation were reluctant to extend the lull until the last minute."

Palestinian delegate Qais Abdel-Kareem says discussions resumed on Tuesday morning on key issues, including Israel's blockade of Gaza, its demands for Hamas' disarmament and Palestinian demands for a Gaza port and airport.

Palestinian ambassador to Cairo, Jamal Shoback, says the Israelis have proposed arrangements that are about "not (fully) removing the blockade but easing it."

Ynet reported that sources in Jerusalem said late Monday night that Israel has been working with the US to find a long term solution for Gaza, which included that gradual lifting of the blockage imposed by Egypt and Israel on Gaza. Lifting the blockade is a central Palestinian demand.




According to al-Ajrami, "there seems to an agreement between Israel and the Americans according to which there will be international oversight over the transfer of materials into Gaza," Army Radio reported.

According to the senior Palestinian official, this understanding will replace the demand to demilitarize Gaza, a move which he said was impossible while a blockade was still in place.

"No one can take Hamas' arms or those of any Palestinian faction in Gaza because these arms are used to resist the occupation, and the occupation continues," he was quoted as saying.
Looming deal
Palestinian sources claimed that the pending agreement includes seven sections (which have not been confirmed by Israeli sources):
1. Comprehensive end to blockade of Gaza, including all crossings, and international supervision over entry of construction materials
2. Rehabilitation of the Gaza Strip under the supervision of the Palestinian unity government
3. Provision of solution to electricity shortage within a year
4. Extension of permitted fishing zone from six to 12 miles within six months
5. Comprehensive end to economic blockade of the Gaza Strip
6. An agreement, in principle, regarding a seaport, but a postponement of discussion for a month from the signing of the accord; the proposal sets new discussions – in a month – on the technical and administrative operations of the future port
7. Postponement of deliberation on release of detainees for one month
However, the chief Palestinian delegate to truce talks with Israel warned on Tuesday that Gaza violence could erupt anew unless progress is made toward a lasting deal ahead of a midnight deadline in Egyptian-brokered talks.
Azzam al-Ahmad said there had been "no progress on any point" in talks aimed at resolving the Gaza conflict.
"We hope that every minute of the coming 24 hours will be used to reach an agreement, and if not (successful), the circle of violence will continue," Ahmad said.
He accused Israel of "maneuvering and stalling" as gaps on key issues continued to dog efforts to achieve a long-term deal between Israel and militant groups in the Gaza Strip, dominated by Hamas Islamists, which would allow reconstruction aid to flow in after five weeks of fighting.
An Israeli government official said Israeli delegates were still in Cairo poring over details of a possible deal, although the parties had not yet agreed a draft.
"The Israeli delegation has been instructed to insist on security requirements. The moment there is an agreement, the cabinet will be called for discussions," said the official, who asked not to be identified.
Senior Hamas official Moussa Abu Marzouk accused Israel of stalling and insisted in a post on his Twitter account that his group "will never cede any" demands for a comprehensive deal.
A senior Palestinian official in Gaza said sticking points to an agreement were Hamas's demands to build a seaport and an airport, which Israel wants to discuss only at a later stage.
Israel, which launched its offensive on July 8 after a surge in Hamas rocket fire across the border, has shown scant interest in making sweeping concessions, and has called for the disarming of militant groups in the enclave of 1.8 million people. Hamas has said that laying down its weapons is not an option.
Attila Somfalvi, Elior Levy, Reuters and the Associated Press contributed to this report