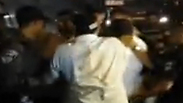 Undercover cops disguised as Haredi men at the protest in Jerusalem
The arrests of nine Haredi rioters last Sunday at a rally in Jerusalem against the imprisonment of a yeshiva student for ignoring an IDF draft order were carried out in the most un-Orthodox of ways. Those who conducted the arrests were not uniformed policemen, but rather police detectives disguised as ultra-Orthadox yeshiva students.

In a video from the protest, the undercover cops are seen wearing white blouses, yarmulkes and Tzitzit and arresting a young Haredi man, who according to the police, set fire to a trash can near by. Just moments after grabbing the man, the two put on their police hats.

When the Haredi rioter resisted the arrest, one of the disguised policemen pushed him down to the ground, and a riot started at the scene.

Watch video of undercover police in Haredi protest

The protest in Jerusalem against the arrest of the yeshiva student was particularly violent; the rioters confronted security forces and called them "Nazis". In addition they blocked roads, threw stones and burned trash cans. Mounted policemen dispersed them using water canons. A policeman was lightly injured.

The disguised investigators are no strangers to the Haredi protesters. "They are present at every rally. We know they are in disguise because of the small changes in the way they are dressed, they also touch their Yarmulkes and tzitzit a lot," said one of the demonstrators.