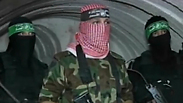 Hamas terrorists in the tunnels
Photo: Reuters
GAZA - Hamas fighters, clad in black and armed with assault rifles, navigated the dimly lit tunnel with ease, saying they felt at home in their network of underground passages in the Gaza Strip.

A rare tour that Hamas granted to a Reuters reporter, photographer and cameraman appeared to be an attempt to dispute Israel's claim that it had demolished all of the Islamist group's border infiltration tunnels in the Gaza war.

Hamas give Reuters a guided tour of one of their tunnels (צילום: רויטרס)

"We are speaking to you today from inside one of those tunnels, which Israel said it had destroyed. Our men are still operating in those tunnels prepared for all options," said a masked fighter from Hamas's Izz ad-Din al-Qassam Brigades.

But driven, blindfolded, to the secret location in a Hamas vehicle that made a series of turns, it was impossible for the Reuters crew to tell whether it was close to the frontier or further inside the Gaza Strip in tunnels untouched by Israeli bombing. It was not clear where the tunnel led.

By Israel's own account, its ground forces focused only on destroying tunnels within 2 to 4.5 km of the border, while ignoring more distant connecting passages. During the Gaza offensive, Israel's military took reporters through tunnels it discovered at the frontier.

Chatting in soft voices and laughing at times, Hamas men guided the Reuters crew through corridors less than a metre (3.3 feet) wide that are reached by descending a thin metal ladder through a tiny shaft.

"It feels just like home," their commander said. "Fighters dug these tunnels with their own hands just like they built their houses, so they live here at comfort and assurance like they do at home."
Sound of silence
The ceiling in parts of the tunnel was high enough so we could walk through - alternately on dry, concrete floors and muddy ground - without having to bend our heads.

It was impossible to gauge the tunnel's length, but it had offshoots leading in different directions. Once inside, the sounds of traffic and Israeli drones that routinely fly over the territory of 1.8 million people could not be heard.

Israel said the tunnel network is used by Hamas to move and store weapons and keep fighters out of sight of Israeli aircraft.

It is separate from smuggling conduits that ran under the Egypt-Gaza border. Egypt, which regards Hamas as a security threat, destroyed those tunnels before the current war.

Israel launched its Gaza offensive on July 8 after a surge in Hamas rocket fire across the border. Israeli ground forces invaded on July 17 with the declared aim of destroying infiltration tunnels and left on August 5 after saying that mission had been accomplished.

Egypt is trying to finalize a long-term ceasefire after a five-day truce was extended by 24 hours into Tuesday, a truce that was broken several hours before it was set to expire when Palestinian factions in Gaza resumed rocket fire on Israel.

On the battlefield, Hamas met Israeli forces with an array of tactics, including the use of tunnels to launch surprise attacks. The IDF lost 64 soldiers, more than six times the number of troops killed in its previous invasion of Gaza in early 2009. Three civilians in Israel were also killed.

Israel says it has killed hundreds of Hamas fighters and destroyed more than 30 tunnels. Funeral marches were held for several members of the Qassam Brigades but there has been no official word from the group on its losses.

The Palestinian Health Ministry puts the Gaza death toll at 2,016 and says most were civilians in the small, densely populated coastal territory.

In the tunnel, a Hamas fighter said the group would press on with restocking its arsenal or rockets and other weaponry and shoring up its underground network.

"In peace we make preparations, and in war we use what we have readied," he said.