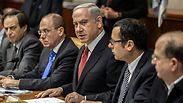 Government meeting
Photo: EPA
Despite the heavy barrages that hit southern and central Israel on Tuesday night, and the collapse of ceasefire negotiations, Prime Minister Benjamin Netanyahu has yet to convene his Security Cabinet.

Cabinet ministers criticized the prime minister, saying "he's not convening the cabinet because he doesn't want to bring the decision on decisive action to a vote. He's putting up a tough front, but hopes something happens and an agreement with Hamas is reached quickly."

The latest ceasefire, that was set to expire on midnight, was broken some 8 hours earlier when three Grad rockets fired from the Gaza Strip fell near Be'er Sheva and Netivot on Tuesday afternoon. The IDF responded by hitting different targets in the Gaza Strip.

Many government ministers demanded Israel delivered a fatal blow to Hamas in Gaza, and abandon ceasefire talks altogether.

"The government policy of 'calm will be met with calm' is fundamentally wrong. We need to talk and negotiate with Hamas only when it has surrendered. We now must seek a quick and decisive end to Hamas," Foreign Minister Avigdor Lieberman said in a meeting with Yisrael Beiteinu MKs.

Cabinet member, Economy Minister Naftali Bennett, said following the resumption of rocket fire that "when you want to defeat a terror organization, you reach a decisive victory. When we hold peace talks with a terrorist organization we get more terror. Hamas thinks that rocket fire helps them reach their goals in talks and so they fire even during a ceasefire. Rockets are not an accident as far as we're concerned, it's systematic."

Bennett went on to say that "Only a severe response, like any sovereign nation responds to rocket fire on its territory, will be able to stop the deterioration (of the situation). Sooner or later, Israel will need to subdue Hamas, there's no way to avoid it."

In a Facebook post, Finance Minister Yair Lapid reiterated his position that Israel must not end Operation Protective Edge before ensuring the disarmament of the terror infrastructure in the Strip, and before the transfer of international funds to Gaza is monitored and supervised, so Israel doesn't find itself in another round of hostilities soon.

"Any future arrangement must include the dismantling of Hamas' terror infrastructure in Gaza, and complete control over the funds meant to rehabilitate the Strip," Lapid wrote. "For that to happen, I am promoting a regional conference to give a wide international cover to achieving these objectives. Without a diplomatic move, without wide international support, any attempt to reach an agreement will be the beginning of the countdown to another round of violence."

"The negotiations with Hamas do not serve Israel's security interests, and there's no point in continuing them," Interior Minister Gideon Sa'ar said.

Science, Culture and Sport Minister Yaakov Peri said Israel must stand firm and continue making its demands. "I don't see this as the end of the negotiations yet," he said. "We need a lot of patience. We have to determinedly insist on the principles Israel has set."

Housing Minister Uri Ariel said that "we must strike the Hamas enemy until we achieve victory. I suppose the prime minister and security forces in giving a decisive and painful response to the terrorists, and in restoring the security to the citizens of Israel. It can't be that we'll be responsible for halting fire while they're responsible for firing."

Opposition leader Isaac Herzog (Labor) said that "the Israeli government and prime minister's job is to provide protection and complete calm to the southern communities. If, as the prime minister claims, Hamas has indeed been defeated, then he (Netanyahu) is expected to reach a diplomatic accord with conditions that benefit the state of Israel. But if the government folds to bring faux-calm, as the one we experienced today, then it would indicate on the failure of a weak government."