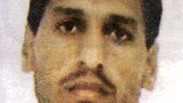 Hamas: Mohammed Deif wasn't killed or injured in IDF attack
Israeli source tells Fox IAF did kill the shadowy commander of Izz ad-Din al-Qassam Brigades, who survived at least five Israeli assassination attempts, was apparently killed in attack on Gaza City on Tuesday together with his wife and infant son.
Israeli intelligence sources reportedly told Fox News on Wednesday that Hamas' military chief Mohammed Deif is believed to have been killed in an IAF attack in Gaza on Tuesday night, despite Hamas denials.
But Hamas' military spokesperson said Wednesday that their leader Mohammed Deif wasn't killed or injured in an IDF attack on his home Tuesday night
"The Zionist enemy failed to assassinate general commander Abu Khaled," said the spokesman, using Deif's nom de guerre.
Hamas said the air strike on the home of the al-Dalou family in the Sheikh Radwan neighborhood of Gaza City killed Deif's wife and infant son, but not him.
The three-story home was reportedly hit by five missiles, Palestinian news agency Ma'an reported. The report said a third, unknown person was also killed.
Hamas also further threatened Israel, saying "We are warning international airlines and press them to stop flying into Ben Gurion airport from 6 am (0300 GMT) Thursday," said Al-Qassam Brigades spokesman Abu Obeida in a televised speech.
Dressed in military fatigues with his face wrapped in a red and white chequered headscarf, he said Hamas was abandoning efforts to negotiate a durable ceasefire with Israel at Egyptian-brokered talks.
"We are calling on the Palestinian delegation to withdraw immediately from Cairo and not to return," said Abu Obeida in a speech broadcast on Hamas's Al-Aqsa TV channel.
"There will be no return to talks after today and any move in this direction will never achieve any result," he added, "The enemy lost a golden chance to reach a ceasefire with limited demands, for which it will pay after today."
Deif's fate
A member of the Palestinian delegation in Cairo said the heavy barrage of rockets fired on Tuesday night was a response to the "massacre" at the al-Dalou home, the home Deif's wife and son were in.
Al-Qassam Brigades said in a statement that "Israel, in this treacherous action, opened the gates of hell upon itself and it will pay a heavy price. We challenge Israel to reveal the real reason behind the cowardly act they committed when they bombed the home of the Dalou family."
Deif has been repeatedly targeted by Israel, attacks in which he is believed to have been seriously wounded. Until Tuesday, the most recent - and fifth - attack came in 2002, shortly after he was named Hamas' military leader.
That attack left him severely wounded, and some rumors suggested he had been left paraplegic, although these were never confirmed, largely due to the secrecy surrounding the details of his life.
Related stories:
Deif delegated the leadership of the brigades to his deputy, Ahmed Jabari, thus earning the nickname the "cat with nine lives" among his enemies, and cementing his reputation inside Gaza.
Born in the Khan Younis refugee camp in southern Gaza in 1965, Deif has been involved in Hamas operations for more than 20 years, plotting suicide bombings inside Israel, kidnapping soldiers, firing rockets and helping plan the tunnels used to launch attacks.
He was appointed the military wing, the Izz ad-Din al-Qassam Brigades, in 2002 after the death of his predecessor, Salah Shehade, in an IAF strike on Gaza.
But Deif had had a long yet shadowy career as a militant even before then. His involvement with the Islamist movement in Gaza began in the 1980s when, as a biology student close to the Muslim Brotherhood, he headed the Islamists' union at Gaza Islamic University.
With the eruption of the second Palestinian Intifada in 2000, he escaped, or was freed, from a prison run by Yasser Arafat's Palestinian Authority. His departure from prison angered Israel, which by then had had him in its crosshairs for more than a decade.
Master of disguise
Only a few, poor-quality photographs of Deif are known to exist, the most recent taken some 20 years ago. His hiding place were unknown, and he was said to have been a master of disguise able to blend seemlessly into the population.
he also used no techonology that might allow Israel to track him, a Hamas official told AFP on condition of anonymity.
Deif may have learned caution from the death of his mentor, Yahya Ayash, who was killed in 1996 by a mobile telephone booby-trapped with explosives by Israel.
Deif's real name is Mohammed Diab al-Masri, and he owes his 'nom de guerre', which is Arabic for guest, to his habit of constantly changing his location, the Hamas official said. He described Deif as a man who is "polite, discreet, softly spoken" and fascinated by "military strategy".
The elusive leader's public statements are extremely rare. In 2012, he warned Israel against launching Operation Pillar of Defense, which was aimed at halting rockets fired by militants in the Gaza Strip.
After the death of his mentor Ayash, who passed on his explosive-making expertise, he took on the role of "engineer for the Izz ad-Din al-Qassam Brigades", the IDF says in its blog.
Israel sees him as the mastermind of the campaign of suicide bombings that targeted buses and public places in Tel Aviv and Jerusalem until 2006, and considers him "personally responsible for the deaths of dozens of civilians."
He also played a key role in the strategic development of Hamas, Israel says.
It claims that Deif was among the militants "who designed the Qassam rockets" – the Islamist movement's signature weapon with has a range of eight kilometers, until Iran supplied them with more advanced missiles.