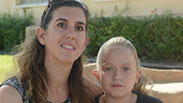 Osnat and Gal Moritz
Photo: George Ginsburg
The resumption of rocket fire less than two weeks before the school year begins has left many parents concerned ahead of September 1.

While most of the schools in communities close to the Gaza border are prepared for rocket and mortar fire, there are far less bomb-protected schools and pre-schools in communities slightly further away from the Strip.

If the rocket fire continues unabated, it is unclear how many parents would send their children to school.

The decision on whether or not to postpone the beginning of the school year will be left to the regional councils, and the Education Ministry will fall in line with them. Most of the municipalities and councils will wait and make a decision closer to September 1.

At the Bnei Shimon Regional Council, for example, only half of the educational facilities are bomb-protected.

Osnat Moritz and her 11-year-old daughter Gal, from Hatzerim, told Ynet that they're unsure whether or not Gal would go back to school.

"Unfortunately, after last night, we realized it's not certain the school year will begin," Osnat said. "The children's school is not bomb-protected at all. But we're counting on the council to make decisions that would protect our children. They know there's no bomb-protection here at all and the council won't allow us to send our children to an unprotected place."

There's only one portable bomb-shelter in Gal's school, enough for only 10 to 12 students. "If there's a siren and the Iron Dome doesn't stop this rocket it could still hit us," Gal said. "We can only lie down and put our hands over our heads in the safest place there is. We're really afraid to start school this way."

Ronen, a father of four, said, "if there's no shelter in the school I'd rather my children stay home close to the safe room. I won't send them to school. One of my daughters' schools only has one shelter. You can't put a thousand students in one shelter."