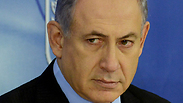 Prime Minister Benjamin Netanyahu
Photo: Kobi Gideon, GPO
Prime Minister Benjamin Netanyahu addressed the press Wednesday evening and said the operation in Gaza would not end until calm is returned to Israel. He refused to respond to rumors regarding the fate of Hamas' military leader Mohammed Deif, only saying that "Hamas leaders are legitimate targets."

Netanyahu began his speech by praising IDF soldiers and sending his condolences to the bereaved families. He said the operation was not over yet, and would not be until calm is returned to the south.

"Our policy regarding Hamas is simple: If you fire, we will hit back. They think they will exhaust us, but they are wrong," Netanyahu said.

"The operation did not end. Our struggle against terror groups is a long and goes back many years. In recent weeks we have dealt Hamas a massive blow, the most serious blow since their establishment. We are determined to continue and use any means needed," he said.

When asked if negotiating with Hamas makes it stronger at the expense of Palestinian President Mahmoud Abbas, Netanyahu said that "Hamas is isolated. Who supports Hamas? Qatar, Turkey and Iran. The entire Arab world is against it."

Prime Minister Benjamin Netanyahu (Video: Assaf Magal) (צילום: אסף מגל)

When further pressed on the issue, he said: "I hope (Abbas) plays constructive role, but he must understand that Israel has the right to defend itself. I look forward to restarting peace talks with a Palestinian government committed to fighting terror."

"We need resolve," Netanyahu said, "we must remain united internally and stay brave,"

Netanyahu said, however, that he saw a "new diplomatic horizon" ahead for Israel in the region, alluding to possible diplomacy with Palestinians ahead once the war was over."

Regarding relations with the US, which seemed to have hit an all-time low during the operation, Netanyahu said "there is no crisis with the US. I spoke with Kerry and we had a very good conversation. We also spoke yesterday and the day before. I have spoken with Obama a number of times. The relations is stronger than it what is being said. We recived support and I praise Obama for it."

He further thanked the US for giving Israel the emergency funds it requested for additional Iron Dome batteries and praised their support of a demilitarized

Netanyahu did not comment on Deif, but when he was specifically asked about the Hamas military leader's fate, Netanyahu said "Not only are Hamas leaders legitimate targets, they are a top priority. No one is immune."

Defense Minister Moshe Ya'alon also spoke, and said that Hamas is hiding the extent of damage that Israel has caused the organization, including the names of militants who've been killed.

Netanyahu reiterated his position regarding Hamas and the Islamic State militants currently ravaging Iraq and Syria, and said they were "branches of the same tree."
Deif's fate
Palestinian sources said that the IDF struck Deif's home in Gaza Tuesday night, killing his wife and child and breaking a ceasefire. Hamas officials however, denied that Deif was killed or wounded in the attack.

An Israeli intelligence source told Fox News on Wednesday that the working assessment was that Deif had been killed. The Fox report contradicted Hamas' claims and made the ultimate fate of Deif unclear.

Deif has escaped multiple assassination attempts over the last decade and Israel regards him as a high profile target responsible for attacks against Israeli civilians. A Hamas spokesperson said Wednesday that Deif and his family are the spirit of the Palestinian opposition movement.

Meanwhile, an Israeli delegation has landed in Egypt, local report claimed, indicating Israel could be considering renewing diplomatic efforts to reach a long term ceasefire in Gaza despite renewed rocket fire on Israel which prompted the return of the previous delegation Tuesday.

Meanwhile, Arab League chief Nabil al-Arabi accused Israel on Wednesday of "blocking" all attempts to end the Gaza conflict, a day after the collapse of a ceasefire in the Palestinian territory, which the US and Israel blame Hamas for.

The Egyptian news source Al-Youm al-Sabea reported Wednesday afternoon that an Israeli delegation led by Eyal Danino, a policy advisor at the Israeli embassy, had landed at Cairo's airport to hold meetings with Egyptian officials for discussions on finding a way to reach a ceasefire agreement with Hamas.

Attila Somfalvi, Roi Kais, Elior Levy and AFP contributed to this report