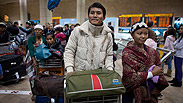 A lost tribe makes Aliyah
Photo: Gettyimages
From Manipur to Kfar Hassidim: A lost tribe makes Aliyah
VIDEO: They believe they are descendants of a lost tribe of Israel that was exiled by the Assyrians nearly 3,000 years ago; now the Bnei Menashe, who maintained their traditions and never ceased to yearn for Israel, are coming, despite Rabbinate's demand they undergo conversion.
For 20 years, Yochanan Phaltual, a member of the Bnei Menashe tribe in the northeastern Indian state of Manipur, has dreamt of one thing: Israel.
It was a complicated dream for him, since for the past decade he has administered Beit Shalom, the synagogue and community center for Bnei Menashe that is run by the Shavei Israel organization. But recently, it came to pass: Phaltual left behind the place of his birth and made Aliyah to Israel together with his family and other members of the Bnei Menashe community.
A lost tribe makes Aliyah (Gaby Neuman)
Channel 20 accompanied Phaltual and the other immigrants all the way from Manipur to his home in Israel, where he resides at Shavei Israel's privately-run absorption center in Kfar Hassidim, near Haifa.
"It is hard for me to believe that it is finally happening," Phaltual said, adding, "I feel as if all my dreams are coming true".
Hundreds of new immigrants
More than 400 immigrants from the ancient and mysterious tribe of Bnei Menashe have made Aliyah to Israel thus far this year, and many more are due to come in the next few months. The driving force behind this initiative is Shavei Israel, headed by Michael Freund.
The Bnei Menashe are believed to be descendants of the tribe of Manasseh, one of the Ten Lost Tribes of Israel that were exiled from the Land of Israel by the Assyrian Empire in 722 BCE.
According to their tradition, the Torah scrolls which the Bnei Menashe had taken into exile were lost or stolen nearly 1000 years later. Since then, their tradition has been passed down from father to son across the generations.
Over the years, Shavei Israel has brought more than 2,500 Bnei Menashe to Israel, while another 6,500 are still in India, all of whom are hoping to make Aliyah.
A Moving Experience
As he escorted the new Bnei Menashe immigrants into the arrivals hall at Ben Gurion Airport, Shavei Israel's Michael Freund was visibly moved. "Each time I see these people fulfilling their dream after thousands of years and reaching the land of their ancestors, it moves me anew," Freund said.
He offered heartfelt praise for Israel's Absorption Minister Sofa Landver for her support for the Bnei Menashe Aliyah, and voiced determination to keep the immigration process going.
"We will continue with our efforts until, with G-d's help, every last one of the Bnei Menashe who wishes to come to Israel is able to do so," he added.