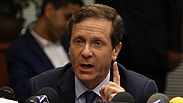 Isaac "Buji" Herzog: Netanyahu empowering Hamas
Photo: Gil Yohanan
Opposition leader MK Isaac "Buji" Herzog (Labor) slammed Prime Minister Netanyahu on Wednesday night, accusing him of being more concerned with political infighting than addressing the needs of Israelis.
"Israel's residents, specifically those living near around Gaza, haven't received any solutions from the prime minister. We've seen a prime minister who is more focused on dilapidated relationships with his Cabinet members than giving solutions to the Israeli public. There's no promise in his words or hope for a settlement agreement."
The Labor chairman added that, "The public got the government's dismal picture that it's not capable of acting together in a responsible and unified manner, even during a war that's already a strategic threat to the security of the State of Israel."
'Netanyahu empowering Hamas'
Last week, before ceasefire efforts fell apart in wake of renewed rocket fire, Herzog told Ynet's sister print publication Yedioth Aharonoth that Netanyahu's behavior was empowering Hamas.
In the interview, Herzog said he had received a disheartening phone call from a BBC reporter stationed in Belfast, North Ireland. The reporter informed him that Belfast's city council had decided to remove the honorary plaque outside the house in which his father – Israel's sixth president Chaim Herzog – was born, in wake of protests by pro-Palestinian activists in the city.
Beside the personal pain, for Herzog this story is indicative of a wider shift regarding how Israel is perceived throughout the world.
"Bibi (Prime Minister Benjamin Netanyahu) is a very strong on the military side, but not on the political-diplomatic side, and as a result he entered into this offensive with little international goodwill, which has all but run out," he said.
"Israel is living on the last drops of international goodwill it had retained, and the time has come for some soul searching.
"Netanyahu has failed because for years he had a policy of 'wait and see'. He saw the threat on the south and had the chance to change the face of history by reaching a courageous political arrangement with the Palestinians. But at every step of the way his policy undermined (Palestinian President Mahmoud) Abbas' strength and moved Hamas closer to conflict.
"Sadly, Netanyahu is anything but strong in the face of Hamas – he has made Hamas stronger.
Is Israel negotiating with Hamas?
"Of course it is negotiating with Hamas when it should really be talking with Abbas. The entire reconstruction and rehabilitation of Gaza should be done in such a way that Hamas does not gain a victory. Israel needs to take the political initiative in face of Hamas, not only in the form of a military win."
But maybe we have no choice but talking with Hamas?
"Our big problem is that Hamas' strength prevents us from reaching a peace deal. Every time we give them a prize we hurt the chances of reaching a deal. Netanyahu should have accepted the Saudi peace initiative long ago.
What would you have done in his place?
"The difference between us is that I think he needs to give the public a vision of hope, which is very much needed these days. No one knows where he's leading. What's his goal? Netanyahu must give real answers."
During Operation Protective Edge, you and your Labor party gave Netanyahu and the military actions he led your complete support. What changed?
"As chairman of the opposition, while soldiers are in the field fighting, it was the right thing to do. The fighting posed for us a challenge we weren't anticipating. The political and military leadership weren't prepared for this offensive. When citizens are under rocket fire, I stand by them and by the army, as well as political leadership."
And now? What's changed?
"The public sentiment is at a low. There is a feeling of confusion and that the political leadership is stuck after failing to deliver the goods. All day long its seems they are just involved in infighting. Each one has their own political solution to the situation and every Cabinet member makes their opinion known. There was even a Cabinet member who revealed how he would vote on Facebook before the cabinet's meeting. Who has ever heard of such behavior?
"I think the time has come for a mental switch, and to understand that an offensive (like the one in Gaza) cannot be confined to only to a military price. The battlefield is not just one of rockets and cannons. It is much, much more complex.
"We had created a pressure cooker and it blew. Hamas, which was weak on the eve of the fighting, now understands that through military means it is able to make political gains for its people, who have now united around it. We failed to garner international credit through a political process, we didn't isolate Hamas, and now Netanyahu finds himself in bind."
New coalition for Israel?
"Regional changes have led to the formation of new coalition," Herzog claims, but he doesn't mean an new governing coalition for Israel, but a rather new regional alliances.
"(With) Egypt, Jordan, the Palestinian Authority, Suadi Arabia and the Gulf states… (this is) a coalition with a shared regional vision. What has Netanyahu done with this? Empty talk and political survival. He jumps back and forth from statements and conclusions, while his minister bicker as if we were in the run-up to an election.
"They're firing in every direction, confusing the public; there is just no coherent policy. I expect the prime minister to at least say what his vision is.
"During the fighting I held a number of meetings with Netanyahu. I can understand some of his positions. I'm not pulling a 'you have no idea what you're talking about', but I sense that at his core he has no willingness to lead a revolutionary change. He is stuck in ideological and political anxiety and fear, which stifle the flames of change. "
According to Herzog, the time has come for Netanyahu, Foreign Minister Avigdor Lieberman, Economy Minister Bennett and all of the Cabinet members to apologize to the residents of the south for what he claims were empty promises.
"I remember when I was a member of the Cabinet during Operation Pillar of Defense and I remember Netanyahu making promises to destroy the Hamas regime. Today he is paying the price of his outlandish promise. As chairman of the opposition I do not want make empty promises."
Moran Azulay contributed to this report. Interview conducted by Yuval Karni for Yedioth Aharonoth.