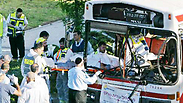 The 2003 terror attack in Jerusalem.
Photo: AP
The details of Steve Averbach's harrowing story of attempting to stop a terrorist attack in Jerusalem in 2003 was heard in full in a New York federal court on Wednesday by way of a interview he gave before his untimely death in 2010 at the age of 44.

The viewing of the interview came as the courts decided to admit Averbach's story into evidence in a legal case against Jordan's Arab Bank accused of knowing allowing Hamas to use the Bank's facilities to pay the families of terrorists after attacks were carried out in Israel.

The trail focuses on some 140 American victims of terror attack in Israel, Gaza and the West Bank during the second Intifada and the tape of Averbach recounting the events of May 18, 2003 is the latest piece of condemning evidence in the developing case.

Though Averbach admits at the end of the recording that he has no personal knowledge of financial involvement by the Arab Bank, his retelling of the attack in Jerusalem brought to light the inhumanity of terror.

"I immediately recognized the situation as an act of terror simply because there were too many things out of place," said Averbach in the film after telling how a man dressed something like an Orthodox Jew had gotten on his bus.

"He had bulges coming from the front of his jacket and he had from what I could make out, in his right hand, a trigger mechanism or a detonator. I immediately drew my sidearm and turned approximately 90 degrees to engage the target when he detonated himself."

Lawyers for the plaintiffs call it the first terrorism financing case to go to trial in the United States and say it could result in the bank paying unspecified damages. Arab Bank, which has hundreds of branches around the world, including in New York and in the Palestinian territories, has denied it knew it was doing business with terrorists when it processed electronic transfers.

The Associated Press contributed to this report.