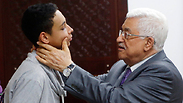 PA President Abbas examining bruises on Tariq Abu Khdier
Photo: EPA
The United States on Wednesday charged Israel had targeted members of a Palestinian family whose teenaged son, Mohammed Abu Khdeir, was kidnapped and killed in July along with two cousins, who are US citizens.
Tensions between Palestinians and Israelis in East Jerusalem plunged to a new low on July 2 when 16-year-old Mohammed Abu Khdeir was snatched from an East Jerusalem street and later found burned alive.
Israeli police arrested six suspects and on July 17 charged three, freeing the others.
The death of the Palestinian teen - thought likely in retaliation for the abduction and killing of three Israeli yeshiva students in late June - sparked rioting and helped unleash the conflict under way in Gaza between Israel and Hamas.
Related stories:
Three days after his death, on July 5, the United States slammed Israel's arrest of a 15-year-old cousin, Tariq Abu Khdeir, 15, a US citizen. He said he was beaten in detention and has since been freed and returned to Florida.
On July 28, another cousin of Abu Khdeir, also American, was arrested in Israel as well, the State Department said Wednesday.
Deputy Spokeswoman Marie Harf identified him as "Mohammed Abu Khdeir," which would mean his name is the same as his murdered cousin's.
"We can confirm that Mohammed Abu Khdeir, a US citizen, was arrested on July 28. The US consulate general in Jerusalem is providing consular assistance. A consular official visited him on August 14. The consulate is also in contact with Mr. Khdeir's family and his lawyer," Harf said.
Yet "we are concerned that the US consulate general in Jerusalem was not notified of his arrest by the government of Israel.
And "we are also concerned about the fact that members of the Khdeir family appeared to be singled out for arrest by the Israeli authorities," Harf added.