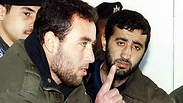 Raed al-Attar (left) and Mohammed Abu Shmallah (center) in archive photo from 1999
Photo: Reuters
Raed al-Attar, who was killed by Israel overnight along with two other senior Hamas commanders, was the architect of Hamas' tunnels project in southern Gaza. He was put in charge of arms smuggling from the Sinai Peninsula, and later helped expand the network of attack tunnels to other areas of Gaza.

Killed Hamas commanders in old documentary

In a documentary at least a decade old, al-Attar tells how the idea of digging attack tunnels first came about.

"At that time Israel was entrenched in its posts, which were difficult to reach, and so the Brigades thought of a new weapon to fight against the occupation. This weapon was the tunnels war that the occupation didn't see coming," he said.

The first such attack, he says, was an attacked he orchestrated at the IDF's Tarmit post on the Philadelphi Corridor in September 2001. Four soldiers were wounded in the attack and extensive damage was caused to the post.

Another such attack was the kidnapping of Gilat Shalit and murder of two other IDF soldiers in June 2006. Al-Attar was involved in the planning and commanded the operation. He was also seen escorting Shalit out of captivity over five years later when the soldier was freed as a part of a prisoner exchange.

Raed al-Attar on day of Gilad Shalit's release from captivity ( )

Also concerned about the struggle of the Palestinian prisoners is Mohammed Abu Shmallah, another top Hamas commander in the southern Gaza division.

"At the beginning of the Al-Aqsa Intifada, many of the Hamas military commanders were incarcerated in Israeli prisons and in the Palestinian Authority," Abu Shmallah said in the half-hour propaganda film.

"Praise be to Allah, many members of the Hamas military commanders managed to get out of jail. There those who were released and those who escaped."

Abu Shmallah went on to tell how these freed prisoners established terror cells within the Izz ad-Din al-Qassam Brigades.

"Each cell operated seriously, vigorously and diligently in its sector until Izz ad-Din al-Qassam Brigades achieved this power," he said.

Abu Shmallah also asserted the "liberation campaign" was far from over.

"Gaza is a dear and beloved part of us, but the entire Palestine is still occupied ... The West Bank is still occupied, and Haifa, Acre and Jerusalem are still occupied."

He accused then-prime minister Ariel Sharon of "trying to annex the settlements in the West Bank and trying to Judaize and annex Jerusalem as well."

Al-Attar, Abu Shmallah and Mohammed Barhoum were killed in a 2:30am IAF bombing of a house in the Tel al-Sultan refugee camp west of Rafah in the southern Gaza Strip. Seven other people were killed and 25 others wounded in the attack.