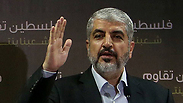 The Palestinians won't return to the negotiating table until Israel surrenders to their demands, Hamas leader Khaled Mashal said Thursday.

He accused Israel of violating the ceasefire. "We didn't break the ceasefire as Israel claims. Israel's lying to the international community once again, as it has done in the past when it deceived the international community and broke the ceasefire," Mashal said.

Mashal asserted Israel was already planning the renewal of strikes in Gaza during the last ceasefire, and forced the indirect negotiations in Cairo on a permanent ceasefire into a dead end.

Israel, he said, demanded the armed Palestinian factions to disarm, but Hamas refused to even discuss this demand.

The issue of the Rafah border crossing, Mashal said, was not a part of talks with Israel, as it's an issue between the Palestinians and the Egyptians.

"We don't deny the fact there are several governments and regimes against us, but all of the people are with us - governments, leaderships and senior officials (support us) both in public and behind the scenes. Those who stand by Netanyahu are few. We pay them no mind as long as the nation is at our side and is joyful and proud of the resistance's achievements," Mashal said.

Meanwhile, Palestinian Authority President Mahmoud Abbas met on Thursday with the Emir of Qatar Tamim bin Hamad Al Thani in Doha and was scheduled to meet with Mashal. On Friday, he was expected in Cairo for a meeting with Egyptian President Abdel Fattah al-Sisi in an attempt to salvage the ceasefire negotiations.

Palestinian delegation member Qais Abd al-Karim (Abu Layla) accused Israel of sabotaging the ceasefire talks so they would fail.

"All we needed for an agreement were 10 words, though these 10 words determine the details. For example, we want freedom of movement and they want to (just) ease movement. The Israelis also want to tie the opening of the passages to conditions later agreed on with the Palestinian Authority, while we want it to be done in coordination with the PA but without limitations," he said in an interview with Asharq Al-Awsa on Thursday.

Al-Karim said the Palestinian delegation was willing to resume negotiations and was waiting for an invitation from Egypt to return to Cairo.

"We told the Egyptians the Israelis' pull-back does not end the negotiating process as far as we're concerned, and we told them that when Egypt finds the right and appropriate time, we will return," he said.