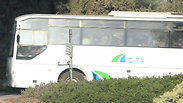 Residents leaving Eshkol
Photo: Motti Kimchi
The residents of the Gaza-border communities have gone through a difficult summer, and as of Thursday, they have yet to regain a sense of calm in their lives. Earlier in the day, Koren Hazut from Kibbutz Nir Oz sent her son to the kibbutz children's house, and several hours later, a rocket exploded nearby.
A man who was in the area pushed one of the nursery teachers and a child into the safe room, saving their lives. It was only later in the day that the Hazut family decided to make its way to the country's north – and not for the first time this summer.
"The families were ordered to vacate the area today at 6 pm," Hazut said. "We're heading to the center, to my mother-in-law, and will join everyone else in Ness Ziona on Saturday night. When we were told to leave last time, we said that we would stay there until we can go back, when we'll be certain of the calm.
"The same situation is repeating itself now. I want to come back knowing that there are no more tunnels, and no more mortar shells falling on our heads, as if we're sitting ducks. As of now, we feel like we're right back to where we were in early July."
Koren, a nurse at Soroka Medical Center in Be'er Sheva and a mother to two boys, a one and a three-year-old, said that her older son had been calm when she came to pick him up today after the mortar shell attack on the children's home.
"He said that there was a Color Red siren and loud booms and that they cried really hard," Koren explained. "We didn't tell him that we were leaving because of the situation. As a mother, it's hard for me to expose him to the evil in the world. I told him that we're going to grandma's house."
"They fired at us," Koren told Ynet, voicing her frustration. "We left our home and once again there's a feeling of uncertainty. Nothing has changed in our reality so far. This has to stop. We have been living this mess since June. It isn't human."
On Thursday night, Kibbutz Nir Oz provided buses for residents of the Eshkol Regional Council who wanted to go up north. Only today, more than 30 rockets and mortar shells exploded in Eshkol, bringing the total number of rockets that fell in the council to over 1,000 since the beginning of the operation.
Uri Dan, a kibbutz member, stressed: "We're not leaving defeated. It's important to understand that we're not running away."
Meanwhile, the Regional Councils in the north are preparing to re-absorb residents from the south. The Hof HaCarmel Regional Council, for example, has hosted thousands of southern residents since the beginning of Operation Protective Edge.
Carmel Sela, the head of the regional council instructed the council's headquarters and the education system to prepare for the possibility that the fighting will continue after September 1st. "If this happens, the council's schools will absorb the students from the southern regional councils.