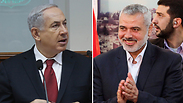 Netanyahu / Haniyeh
(Photo: EPA / Mark Israel Salem)
Top Hamas official Ismail Haniyeh vows the group will not stop fighting until the siege on Gaza is lifted, and called Israel a "neo-Nazi occupier." He made the comments as Israel shifted its strategy in Gaza to targeting the group's top commanders and international pressure to reach a long term ceasefire was mounting.

Commenting on Israel's targeted killing of three of the group's military wings' commanders, Haniyeh said "Once a senior member is killed, we continue on our way without hesitation… Our brave people and leaders are out to lift the siege on Gaza and liberate Jerusalem and Palestine from the neo-Nazi occupier that only destroys homes and kills women and children."

Though he admitted that battle with the "Zionist enemy" was a difficult one, "Hamas' history has demonstrated more than once that it is stronger after each elimination."

Earlier this week, Hamas rejected an Egyptian truce proposal under which Israel would gradually ease its blockade of Gaza, without giving specific commitments. Egypt has said it will continue contacts with both Israel and Hamas, whose delegates left Cairo after hostilities resumed.

Yet there appears to be little chance in the current circumstances of putting an end to fighting or making progress on peace talks.

Hamas has said it will not relent until the Israeli-Egyptian blockade on the Gaza Strip is lifted. Both countries view Hamas as a security threat and are reluctant to make sweeping concessions without guarantees weapons will not enter Gaza.

Haniyeh insinuated criticism at Egypt for the talks, and said that "based on what happened in the past, we suggest to those who initiate the ceasefires to first talk with the enemy and ask it to adhere to the agreements and not drag its feet. The enemy continues to kill our children and carry out massacres."

Despite the crisis, Palestinian President Mahmoud Abbas was in Qatar meeting Hamas political chief Khaled Mashaal to push him to return to a cease-fire, and to encourage Qatar to support Egyptian cease-fire efforts, a Palestinian official said.

Abbas was set to travel to Egypt later Friday to meet with Egyptian intelligence officials to discuss cease-fire efforts, the official added, speaking on condition of anonymity to discuss issues related to the negotiations.

With Egyptian efforts to end the Gaza war collapsing, the United States, Britain, France and Germany are discussing a possible Security Council resolution calling for a sustainable cease-fire and an international monitoring mission to ensure its implementation, UN diplomats said Thursday.

However, a spokesperson for the Popular Resistance Committees in Gaza said the Palestinian factions in the Strip would not be obligated to commit to any potential UN-initiated ceasefire resolution.

"The decision would not force our hand; we will continue to fight Israel until it concedes to our demands on lifting the blockade and ending the aggression."
Shift in policy
Amos Yadlin, former chief of Israel's military intelligence and head of Tel Aviv University's INSS think-tank, said Israel, which was engaged in indirect ceasefire talks with Hamas in Cairo until Tuesday, had now changed its game plan.

"The prime minister has adopted a strategy which says, 'You shoot at us, we'll hit you seven times harder, you want attrition? We have intelligence and an air force that will crush you with greater force'," he told Israel Radio.

However, Israel's ultimate goal could still be a diplomatic deal to end the hostilities, Yadlin said.

"Even the crazy extremists in Hamas understand time is not on their side and this is what we need to do - military activity aimed at an eventual diplomatic outcome," he said.

Netanyahu said fighting could go on for a long while and provisionally approved the call-up of 10,000 army reservists.

"This will be a continuous campaign," he told reporters.

Roi Kais, AP and Reuters contributed to this report